LOOK: Lane Kiffin retweets graphic taking shot at Tennessee football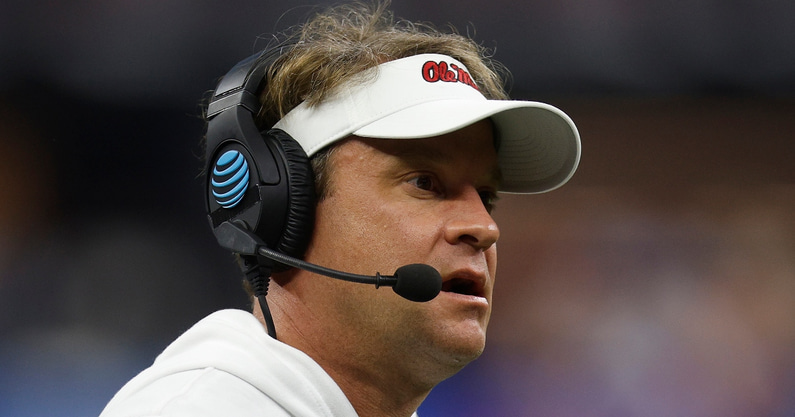 Ole Miss head coach Lane Kiffin has never been shy about taking jabs at a variety of teams and coaches across the college football landscape over the years. On Wednesday evening, he took a direct shot at his old team, the Tennessee Volunteers by retweeting a chart on Twitter that showed the number of teams in college football that have had more wins than the Vols in the past five years.
Check out the chart that he retweeted here.
It shouldn't be surprising that the former Tennessee head coach took a swipe at his old school, as he had a sudden exit that many of the Volunteer fan base will simply never forgive him for.
Last year, he was famously hit with a golf ball on the sidelines as Ole Miss staved off the Volunteers in the closing minutes. It was a raucous and rowdy crowd in Neyland Stadium in Knoxville, Tennessee to finish the game, but Kiffin had the last laugh as Ole Miss prevailed 31-26 on Oct. 16, 2021.
Kiffin had a very ugly departure from Tennessee
In 2009, Kiffin was named the youngest head coach in college football at just age 33. Kiffin was tasked with replacing Volunteeers' legend Phillip Fulmer, who retired following the 2008 campaign.
Though Tennessee was Kiffin's first college football job, he made an immediate impact.
Kiffin's Vols' finished 2009 with a (7-9) record, and improvement from (5-7) the year before. His offensive prowess was on full display and the Volunteers pulled off impressive wins against Georgia, South Carolina, and Kentucky. Ole Miss was one of the SEC squads that knocked of Kiffin's Vols' that season. After falling to Virginia Tech in a 23-point blowout loss in the Chick-Fil-A Bowl, Kiffin suddenly left Tennessee to accept the USC job, with the departure of Pete Carroll to the Seahawks leaving a vacancy.
Since the sudden exit, there has been bad blood between Kiffin and the Tennessee fanbase.
"This was not an easy decision, this was something that happened very quick, a decision that myself and my family made," Kiffin said in his 60-second press conference back in 2010. "I really believe that this is probably the only place I would have left here to go, to go to Southern Cal."
On3's Sean Labar also contributed to this article.