Lane Kiffin talks Ole Miss' first half: Bend don't break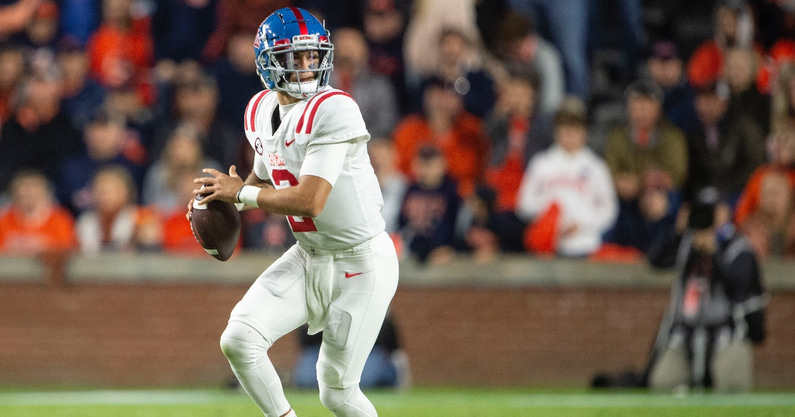 This year's Egg Bowl between Ole Miss and Mississippi State is a surprisingly low-scoring affair given it pits two of the nation's most explosive offenses against each other.
Ole Miss leads Mississippi State 10-6 at halftime, and while the Bulldogs have just two field goals, they have moved the ball well against the Rebels.
Ole Miss head coach Lane Kiffin addressed his team's first-half performance before heading into the locker room at halftime.
"Well bend don't break," Kiffin told ESPN's Katie George. "We've given up some yards, but we've done good in the red zone, made them attempt field goals. So that's good."
The damage could be much worse on a rainy night in Starkville. The Bulldogs have missed two field goals, and they have dropped several consequential passes, including a sure touchdown just before halftime. Two additional drops preceded the dropped touchdown.
On the offensive side of the ball, Kiffin's specialty, the Rebels have not posted their normal stats.
"We're having a hard time in rhythm on offense, which is to be expected," Kiffin added. "They're a really good defense with really good players, and they present a problem."
Mississippi State is one of just six Power Five defenses holding opponents under 100 rushing yards per game this season. They gave up just 54 yards on the ground in the first half.
The only touchdown of the game came courtesy of Ole Miss running back Snoop Conner. The 1-yard score was his 12th touchdown of the season, and it was set up by a series of successful pass attempts from quarterback Matt Corral.
"He finally hit an explosive pass play, and then we were able to get it in on a goal-line situation there," Kiffin said of Corral. "So we got a lot of work to do. We gotta find a way to create some turnovers on defense and get a rhythm on offense."
Unsurprisingly, Mississippi State quarterback Will Rogers is the most impactful player for the Bulldogs thus far. He has already thrown 29 passes, and he completed 18 of the throws for 187 yards.