Matt Corral: 'It's unbelievable' to reach 10 wins, make Ole Miss history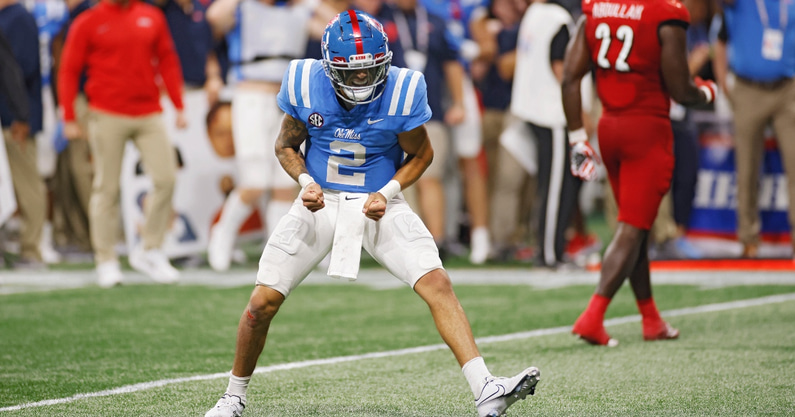 Ole Miss beat their in-state rival on Thursday night in one of the nation's most hostile rivalries.
But that wasn't all. They achieved something much bigger in their 31-21 toppling of Mississippi State.
Ole Miss will head into the postseason 10-2, marking the first time they have ever won 10 regular season games. The Rebels have reached 10 wins seven times in school history, but the 10th win has always come in a bowl.
Following the game, Ole Miss quarterback Matt Corral spoke about what the feat means to the program.
"It feels good," Corral said to ESPN's Katie George following the game. "A rivalry win, and that's a big one, but to do something this big — To do something that this school has never done before, 10-2, ten regular season wins, it's unbelievable."
Corral had another impressive performance, throwing for 234 yards and posting two total touchdowns, but he gave credit for the season to the entire program.
"It's everyone in this locker room that bought in," Corral added. "It's Coach [Lane] Kiffin, the coaching staff, Jeff Lebby, everyone coming together, the collective. This is all the way from January and it's finally on display. I couldn't be more proud of this group."
Corral reflects on Ole Miss career
The California native is headed to the NFL after four years in Oxford, and he took the opportunity to discuss what makes him the most proud about his time under center for the Rebels.
"This team and what we were able to do," Corral said. "This is the same team that was with us when we were 5-5, when we had losing records. It was in us. We just needed people to bring it out of us. 
"Like I said, I'm speechless and I couldn't be more proud of this group right here because everyone looked the other way on these kids, but we're bound together and we're stronger together and it shows."
The conclusion of this season marks the first time the Rebels have finished above .500 since 2015, signaling the team is rapidly headed in the right direction; the jump from between four and six wins in recent years to a 10-win (and potentially 11-win) season is an incredible feat for head coach Lane Kiffin. Kiffin has now won at least 10 games at three schools: USC, Florida Atlantic and Ole Miss.
Both the Sugar Bowl and the Peach Bowl are on the table for Ole Miss should they be selected to attend a New Year's Six game. They will learn their fate next weekend following the conclusion of the conference championship games.