LOOK: Ole Miss head coach Lane Kiffin has hilarious reaction to Nick Saban's NIL comments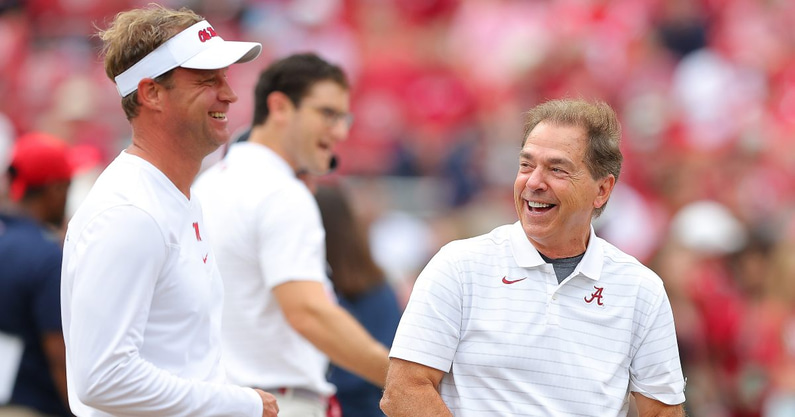 Alabama Crimson Tide head coach Nick Saban is setting social media ablaze with his recent take on Texas A&M and head coach Jimbo Fisher. And everybody is here for it, especially Ole Miss head coach Lane Kiffin. After Saban's comments about the Aggies' activity in NIL via Twitter, Kiffin quote tweeted the post with a Peyton Manning GIF attached to it.
In the comments, Saban takes exception to Fisher's recruiting methods after the Aggies landed the top recruiting class of 2022. Alabama head coach goes as far as to accuse Fisher of buying his players through NIL deals.
Right now, it is unclear whether the allegations levied against the Texas A&M head coach by Saban are valid. But for Lane Kiffin and the rest of the world watching this unfold, that does not matter right because this whole saga is pure entertainment.
Nick Saban on Texas A&M recruiting
Alabama head coach Nick Saban provided harsh criticism of recruiting efforts by Texas A&M and coach Jimbo Fisher versus those of the Crimson Tide. While speaking at an event celebrating the 50-day countdown to the World Games in Birmingham, Saban reportedly claimed that Texas A&M "bought every player on their team" with NIL deals.
"I know the consequence is going to be difficult for the people who are spending tons of money to get players," Saban said via AL.com. "You read about it, you know who they are. We were second in recruiting last year. A&M was first. A&M bought every player on their team. Made a deal for name, image and likeness.
"We didn't buy one player. Aight? But I don't know if we're going to be able to sustain that in the future, because more and more people are doing it. It's tough."
Saban has been one of the most vocal opponents of the direction college football recruiting has moved since Name, Image and Likeness deals were allowed by the NCAA. While Saban maintains that he approves of the system as it enables players to make money on their work, he continues to disapprove of colleges using money as a recruiting tool.