WATCH: Snoop Conner powers through defender for go-ahead touchdown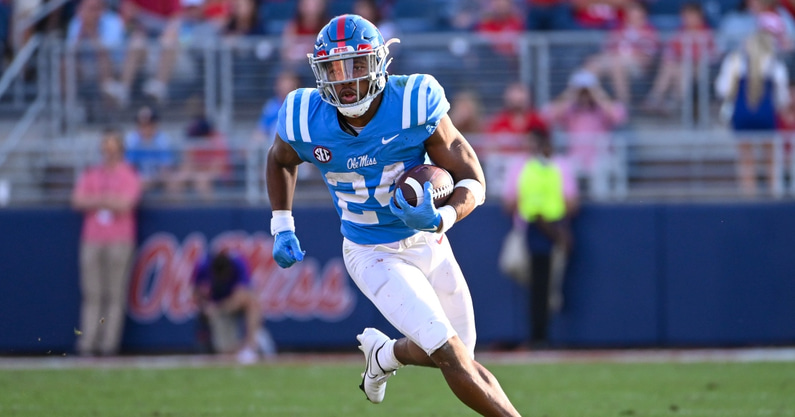 The first touchdown of an otherwise quiet Egg Bowl belongs to Ole Miss.
Late in the second quarter of Thursday night's game against Mississippi State, running back Snoop Conner took the ball in for a 1-yard score. He finished off the score by channeling NBA star LeBron James, doing his signature celebratory move.
It is Conner's 12 rushing score of the season, a team high.
The first three scores of the Egg Bowl were field goals, two by Mississippi State and one by Ole Miss. The Bulldogs also missed a third and fourth try, making kicker Nolan McCord 2-for-4 on the night. McCord is 9-for-16 on the season.
Ole Miss leads Mississippi State 10-6 at halftime during a rainy Thanksgiving night in Starkville.
Kiffin: Bend don't break
While the Bulldogs have just two field goals, they have moved the ball well against the Rebels. 
Ole Miss head coach Lane Kiffin addressed his team's first-half performance before heading into the locker room at halftime. 
"Well bend don't break," Kiffin told ESPN's Katie George. "We've given up some yards, but we've done good in the red zone, made them attempt field goals. So that's good."
On the offensive side of the ball, Kiffin's specialty, the Rebels have not posted their normal stats.
"We're having a hard time in rhythm on offense, which is to be expected," Kiffin added. "They're a really good defense with really good players, and they present a problem."
Mississippi State is one of just six Power Five defenses holding opponents under 100 rushing yards per game this season. They gave up just 54 yards on the ground in the first half.
Unsurprisingly, Mississippi State quarterback Will Rogers is the most impactful player for the Bulldogs thus far. He has already thrown 29 passes, and he completed 18 of the throws for 187 yards. Rogers leads the Power Five in completion percentage and passing yardage.