Shane Beamer explains the importance of recruting players from South Carolina area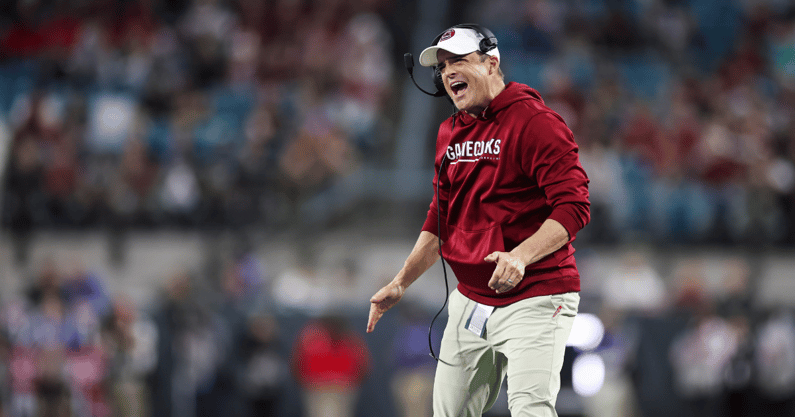 There's nothing like hometown players that will grab the attention of a college football fanbase. South Carolina head coach Shane Beamer knows this, and is ensuring he runs recruiting in the Palmetto State.
Selling point
Beamer's dominant South Carolina campaign is headlined by freshman quarterback LaNorris Sellers. The 6-foot-2 stud committed to the Gamecocks in December 2022. Sellers is a four-star athlete and eighth best quarterback in the nation, according to On3 Sports.
Beamer is eager to get to work with the young star.
"Obviously, from being right here in Florence (SC), it's great to have him and so many young men from this area. We always want to start with our recruiting in the state of South Carolina," Beamer said to the media at the Florence Welcome Home Tour stop.
A man of his word
Beamer isn't bluffing. On the SEC's current 2023 South Carolina roster, 48 players are from the state; two players away from over half the team being homegrown. Beamer seemingly wouldn't want it any other way.
"From a recruiting standpoint, we always want to start right here in the state of South Carolina. I know what great football there is here, there's great tradition in this area," Beamer said. "When we're able to get young men from this area and the state of South Carolina on our team, we feel like it definitely makes our program better."
Other South Carolina natives
LaNorris Sellers isn't the only promising recruit from South Carolina joining the Gamecocks. In total, six incoming freshmen are from the Gamecocks' backyard. Along with Sellers, South Carolina is adding four-star talents such as Markee Anderson and Xzavier McLeod.
After finishing the 2022 regular season with wins over No. 5 Tennessee and No. 7 Clemson, Beamer is thrilled to see what his squad is capable of this year, especially with his new additions.
"Coming off the way we finished the season, with the last two regular season wins, and the success we had with other wins throughout the season, there's a lot of excitement. And, it's great to be able to get out and hear that from the fans."