For The R3cord: Tennessee has talent in running game in 2023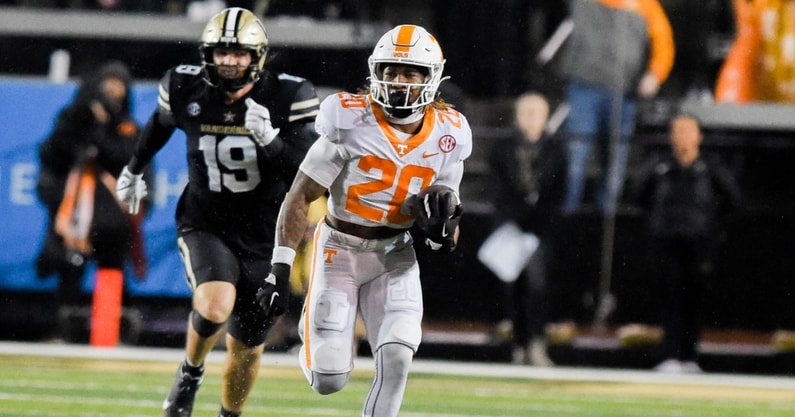 On a recent episode of For The R3cord, host Shannon Terry goes over the upcoming 2023 season for the Tennessee Volunteers with VolQuests Brent Hubbs and Austin Price. One of the burning questions on the host's mind and Volunteer fans across the country is what is the level of talent in their running backroom? According to Hubbs, Tennessee has plenty of talent at running back, ready for the start of the 2023 season.
"I think the running back room is deeper and more talented than it's been in the first two years that Josh Heupel's been here," said Hubbs. "And I think the misnomer about this offense is that they throw it all the time. Because the reality is they run it more than they throw it. It's just the highlights are the throws because some guy's 15 yards ahead of somebody else.
Tennessee was indeed a run-driven team in 2022. The Volunteers ran a total of 813 plays last year. And of those 813 plays, 523 were running plays. Head coach Josh Heupel and crew, on offense, preferred to establish their offense back toting the rock 64 percent of the time in 2022, despite the majority of the team's highlights being of spectacular pass and catch combos.
"But they run the ball effectively, and they ran the ball effectively last year. When you spread everybody else out, you don't have to be pulling guard, road grader, (or) smash everybody because you're creating a lot of lanes because you have the field spread out. But they have to be able to run it. And it'll be a shock to me if they don't run it effectively. I'll be surprised if this is not a good running football team this fall."
Setting up their offense with the run allowed their passing attack to flourish last season. Tennessee would end up finishing the year with 4,239 yards through the air and averaged 10.0 yards per completion.
Tennessee's top three running backs from last year are all returning and expected to contribute considerably in 2023. As Hubbs points out, the run game is the staple of the Volunteer offense. If Tennessee can get considerable contributions from Jaylen Wright, Jabari Small, and Dylan Sampson as they did in 2022, it should make life a lot easier for the Tennessee offense as they transition into the Joe Milton era from the Hendon Hooker one.