Luc Lipcius, Redmond Walsh reveal Tony Vitello's message to the team following upset Super Regional loss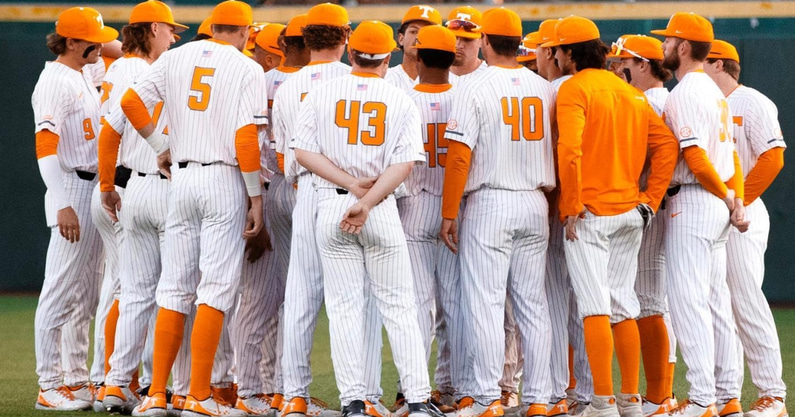 The sting of a shocking loss is still fresh in the minds of Tennessee baseball.
With the weight of expectations on their back, the Volunteers were upset by Notre Dame, preventing them from booking their trip to Omaha for the College World Series. While the emotions of their season ending abruptly were prevalent, Tennessee stars Luc Lipcius and Redmond Walsh took a grateful tone when speaking about skipper Tony Vitello, and their season as a whole afterwards.
"He just told us that what we did this season was absolutely amazing," began Lipcius, revealing what his skipper told the team following the loss. "We should never forget, or feel bad about how far we've come. He said that we put him in a really good position to keep this dynasty going. You can see that there's so much emotion within that group of guys, because everyone loves everyone. Everyone's such a good guy. You got him (Tony Vitello), and he's the most passionate one in the bunch. You just want to go to war with him, and every single one around you.
"But it's just a fantastic team, and an absolutely unforgettable one."
Continuing, Walsh echoed his teammates' sentiments, thanking Vitello for taking a chance on his ability.
"He always has our back," Walsh said, speaking about Vitello. "It's been like that since Day 1. Me and Luke were I think the last two kids to commit in our class. Probably shouldn't have even played here. The guy over there for some reason gave us a shot. We've just been able to play, and be in big opportunities and kind of turn the program around. Just from that, we can't thank him enough, the coaching staff enough. My teammates, you can see as the years go on, the teams get closer and closer the better you are. This year, man, it's going to be the hardest one to leave. Those guys are unbelievable. Everybody on that team, pitching wise, is more talented than me.
"So, it's going to be fun to watch them pitch for many years after. But, it's just an unbelievable season. It's a tough one to end. It's one of those things, excited to see where those people go next year, and what's next for them."
The Volunteers may have been brash and controversial throughout the season, but it's evident the team was as tight-knit as you'll ever see in the sport. Now, Tony Vitello will look to capture the same success Tennessee saw this season moving forward.