Rick Barnes commends Josiah-Jordan James for impact on winning despite scoring woes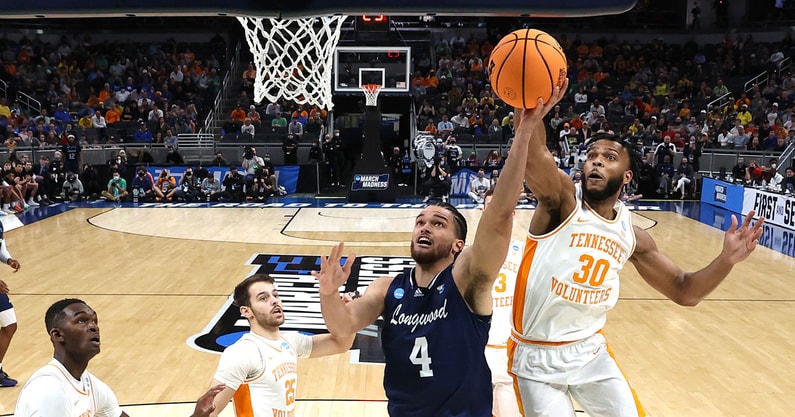 Tennessee star Josiah-Jordan James hasn't quite matched his scoring totals from a year ago, but that hasn't kept him from having a huge impact on winning for the Volunteers this season.
Coach Rick Barnes credited him for finding ways to impact the game outside of scoring following a narrow 46-43 win over Auburn this weekend.
"It's what we talk about as much as anything: How can you impact winning when you're not shooting the ball well?" Barnes explained. "You can always impact it on the defensive end. You can always impact it by rebounding the ball the way he does. You can impact it by getting second shots. That's what he does."
James was fantastic in most of those areas on Saturday against Auburn, even while turning in a decent scoring night.
He finished with a double-double, grabbing 14 rebounds to go along with his 15 points. He also dished out one assist.
"Some of his mid-range plays were huge plays, where he went inside and jumped up and made a couple shots," Barnes said. "Certainly kept us in the game, but with his experience we expect him to find a way to impact winning, which he obviously does most of the time."
The veteran leader has had no trouble doing that, and as a result Josiah-Jordan James' impact has been tangible.
Josiah-Jordan James' impact extends beyond the box score
One thing James emphasized to his teammates coming off a midweek loss to Florida was that they had to keep doing the small things.
That didn't happen against the Gators.
But thanks to Josiah-Jordan James' impact in every aspect, Tennessee was able to buckle down and play much better team defense against Auburn.
""Like I've always said, we think we're the best defensive team in the country," James said. "Whether shots are falling, whether we're scoring or not, we always have to be able to rely on our defense."
"On Wednesday when we played them we weren't that team. So we sat down in the film room. We had to look ourselves in the mirror, individually and collectively as a team, and learn from our mistakes, and I felt like we did."
Tennessee will return to action on Wednesday night at Vanderbilt for a game that tips off at 7 p.m. ET with a broadcast on the SEC Network.