WATCH: Rickea Jackson hits game-winning shot to keep Tennessee undefeated in SEC play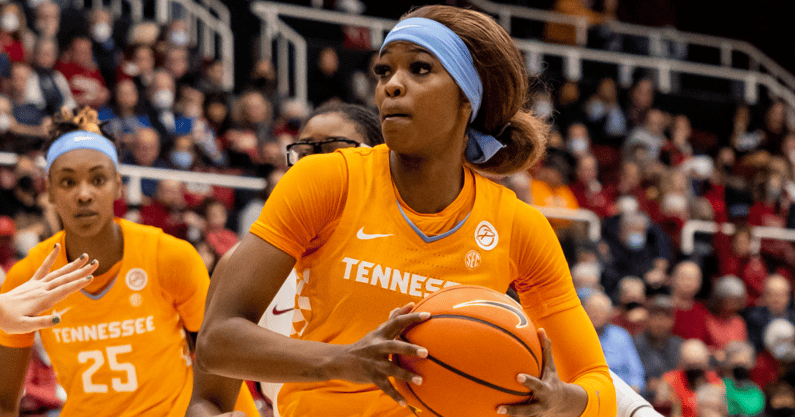 With Tennessee and Missouri tied at 65 with 10 seconds remaining on Sunday, Volunteers forward Rickea Jackson came through in the clutch. Jackson caught a pass in the post, backing down her defender before spinning around to drain the go-ahead basket and draw a foul.
With 1.1 seconds remaining, she calmly hit the free throw as well to convert the and-one opportunity and give Tennessee a 68-65 victory. With the win, the Volunteers also stayed unbeaten in SEC play, improving to 8-0 in the conference and 16-6 overall.
Jackson finished the game as the Volunteers' second-leading scorer with 15 points in addition to four rebounds and two assists. Guard Sara Puckett led the way with 17 points and five rebounds, both team highs.
Tennessee shot an efficient 28-of-58 (48.8%) from the field in the win, and also received a combined 20 points from its bench. The Volunteers found themselves trailing 65-60 with 1:25 remaining in the game, but finished on an 8-0 run to earn the win.
The game-winner only adds to what has been a big season for Rickea Jackson, who transferred to Tennessee from Mississippi State this offseason. The senior leads the team in scoring with 18.2 points per game to go along with 5.7 rebounds.
The win Sunday marked the ninth straight for the Volunteers. Despite this, they remain unranked in the top 25. That is likely to change this coming week thanks to the heroics from Jackson that resulted in the win.
Coming off of the win, Tennessee has two huge games looming. First the Volunteers will face No. 5 Connecticut on Thursday before turning around to play No. 3 LSU on Jan. 30. The Tigers (19-0) have yet to lose this season, so that contest will be crucial for the SEC standings.