Santiago Vescovi says Missouri game 'for sure' impacted Alabama win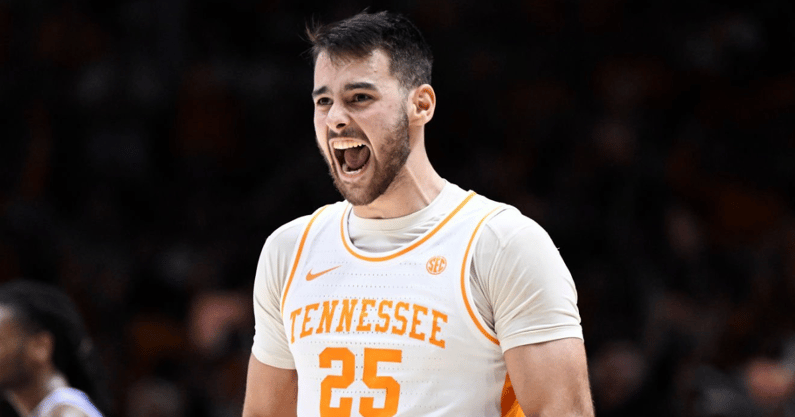 Tennessee hoops got back on track in a major way Wednesday night by foiling Alabama's undefeated SEC record in Thomson-Boling Arena to the tune of a 68-59 victory. Despite losing their last two on buzzer-beater threes and being down two of their top-six players, the Volunteers came out and gave their best performance of the season.
After the game, star Vols guard Santiago Vescovi spoke to media, where he was asked whether the brutal ending vs. Missouri in their last home game helped motivate the team to come out strong against rival and No. 1 ranked Alabama.
"For sure," answered Vescovi, explaining: "I think every game we are learning from it. The goods and the bads. Personally, I think we are in a bad streak and having tonight kind of turned over the page. It was a good feeling for me and the whole team, I think. We are good. We are good. We are not worried about it."
Furthermore, Vescovi was asked if the win renewed Tennessee's confidence as they head down the stretch of the season. Of course, he answered that it did, although he said they didn't hang their heads too much after the losses because they came in such bizarre fashion.
"Knowing that we are a mature team. We are able to finish games. The last couple games with mistakes or not, I think we also got pretty unlucky. Give them credit. Both teams played great basketball. Today, I think gave us a little bit of confidence knowing that we even knew into coming in to the game that we just needed to get our swagger back."
The key against the Crimson Tide was getting big performances out of their younger big men further down the rotation. With versatile wings Josiah-Jordan James and Julian Phillips sidelined, Rick Barnes had to counter Alabama's run-and-gun style with traditional bigs Jonas Aidoo and Tobe Awaka. They stepped up, which Santiago Vescovi loved to see.
"Seeing all those guys that came off the bench and guys that normally they don't get to play as much but they did today. They have been doing (it). Their role has been pretty much growing on the team. Just seeing their reaction and the way they played their butts today. I think it was great. That gives us, especially all the players, I've us a lot of confidence. I know at any team I can ask for a sub and the guy coming in will do a better job than I was doing. A guy is going to be fresh and play their hearts off on the court. That is the best that you can ask for guys playing with heart and I think we have it."
A LOT to love from the huge Tennessee home win over the top-ranked team in the land. A must win that the Vols got. Plus, some encouraging signs from some of the team's future forwards. An all-around A+ evening of hoops in Knoxville.