Tennessee baseball coach Tony Vitello comments on Evan Russell, ESPN controversy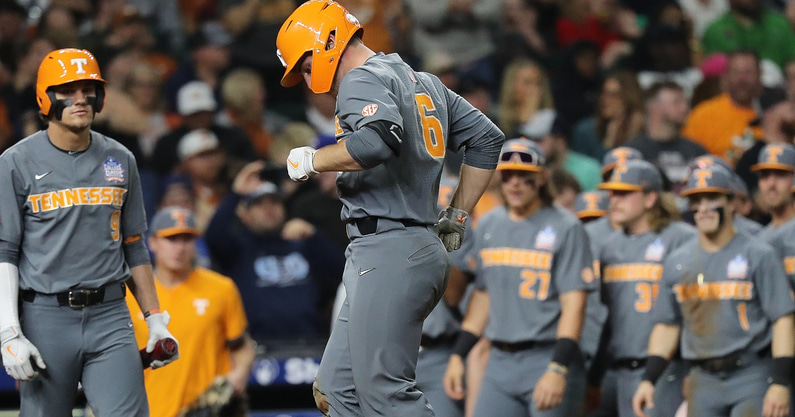 Tennessee baseball was without starting catcher Evan Russell on Friday against Alabama State in the Volunteers' first game of the Knoxville Regional. While Tennessee went on to win 10-0 to stay in the winners bracket, the game was not without controversy and speculation, most of which surrounded Russell.
Tennessee head coach Tony Vitello said after the win over Alabama State that Russell was out due to an illness. Prior to Saturday's matchup against Campbell, Russell was cleared and more information arose on his situation. According to Russell's dad, he was dealing with anxiety and stress, which resulted in his absence on Friday.
Following Tennessee's win over Campbell on Saturday, Vitello again elaborated on Russell's situation. Russell had one at-bat against Campbell, and he had a single and a stolen base despite not being in the starting lineup.
"First, you guys have a job to do, so I understand the persistence, but we kept coming back to the same topic last night," Vitello started. "At the time, it was all I knew, but this morning, we knew more this morning about clearing Evan Russell. The school and program is going to do what every school and program should do and probably does, and that is protect the privacy when it comes to one of our player's health.
"Obviously tonight, a situation arose where we were able to use Evan. Regardless, having him back around is going to make an impact on these guys. He's going to help our team win. At the end of the day, that is kind of my philosophy; I'm just looking for good teammates in this program. That's all I have on that topic."
Russell's absence from Tennessee's lineup resulted in controversy from ESPN
In a game on Friday between Oklahoma State and Missouri State in the Stillwater Regional, the ESPN broadcasters discussed Russell and Tennessee. Even without any real reports suggesting this, the broadcasters said that Russell would be out for the season due to a PEDs suspension, and that the entire Volunteers team would need to be tested.
That was obviously not the case, and Vitello had a clear message after he learned of that incident.
"Stemming from that, I am just going to say with 100 percent honesty—because someone told me that it may come up in this thing and I hadn't even thought about it—I don't know any of the ESPN stuff," said Vitello. "I honestly don't. I know there's a lot of stuff that went around, but we can pick any topic that you want to with social media now; there will be a lot of stuff going on. I'm not trying to sound like a cool guy or be disrespectful, but I honestly don't care.
"A big part of that is I have my hands full here. I appreciate that our fans give me more credit than they should. I run into people at OliBea and they say, 'You're killing it.' I'm not doing anything. Drew (Gilbert) killed the ball tonight. I got my hands full. I wish I would have managed the game a little better tonight. I don't think I destroyed it. That's where my energy is."
Tennessee is 2-0 so far in the Knoxville Regional. The Volunteers will play in the championship game on Sunday night against either Campbell or Georgia Tech. If Tennessee loses that game, a winner-take-all Knoxville Regional championship game will take place on Monday.