Tennessee baseball coach Tony Vitello named Perfect Game/Rawlings Coach of the Year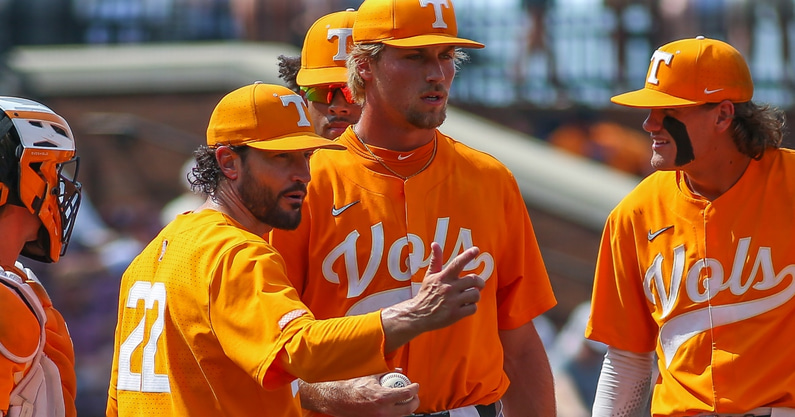 Tennessee and coach Tony Vitello are bringing home even more hardware after an impressive 2022 season.
Vitello was named Perfect Game/Rawlings Coach of the Year on Wednesday, Perfect Game USA announced. The 2022 SEC Coach of the Year, Vitello helped lead the Volunteers to a No. 1 overall seed in the 2022 NCAA Tournament after putting together a strong year. Tennessee finished with a 57-9 overall record this season, including a 25-5 record in SEC play.
In addition, seven Tennessee players received All-American honors from Perfect Game and Rawlings. Chase Dollander was a first-team All-American while Drew Gilbert earned a second-team nod. Jorel Ortega and Trey Lipscomb were both named third-team All-American, and three freshmen — Chase Burns, Drew Beam and Blake Burke — picked up All-Freshman Team selections.
Tennessee saw its season come to a stunning end last weekend with a 7-3 loss to Notre Dame in the Knoxville Super Regional. It was the Volunteers' first home series loss of the season, and it knocked them out of the College World Series field.
Tony Vitello on Tennessee's Super Regional loss: It's hard to get to the College World Series
Tennessee advanced out of the Knoxville Regional and was matched up with Notre Dame in the Super Regional round. Notre Dame came out strong in Game 1 of the best-of-three on Friday, but Tennessee forced a Game 3. In the decisive Game 3, Notre Dame came out on top, advancing to Omaha.
After the loss, Vitello went in-depth on how hard it is to make it to the College World Series, and admitted that regular season success doesn't mean a whole lot when a clean slate begins in the postseason.
"Yeah, it's the way that it goes," Vitello said. "It's not easy, and I'm glad you asked the question. I don't know how I'm doing up here. Probably some people think good, some people think bad. Everyone's got an opinion on everything, which is fair. Fair play to them. But it's hard. It's not – I'm searching for the right way say it to not offend anybody. But I've had people that have played baseball – can't wait to see you in Omaha, made reservations in Omaha, this, that. This is not easy."
"Ask Notre Dame. They came up short last year. This year they did not. I'm sure it drove them like crazy, maybe that gave them a little edge in Friday's game. I would like to make it automatic, I'd like to be able to recruit that well. I certainly can't coach that well that it is automatic. But ask any team in the country that gets there or has every played there, has ever come up short. It is not automatic. So I don't think anyone had that in their mind because of what our accomplishments were. They've just been such a good group about tackling the next thing."