Top 2024 QB Jadyn Davis visiting Tennessee this weekend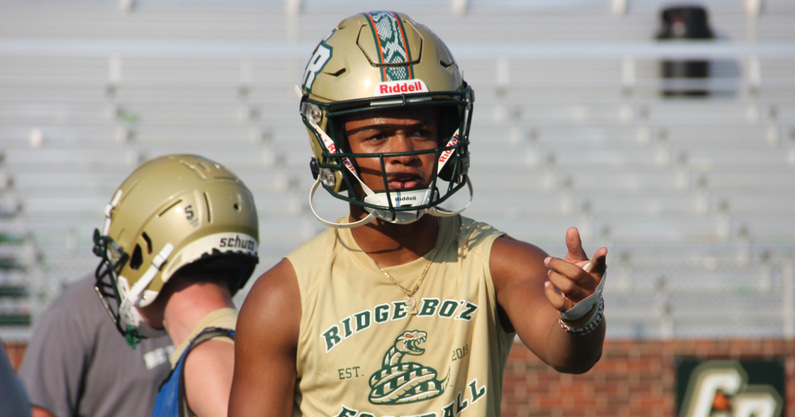 Elite 2024 Fort Mill (S.C.) Catawba Ridge quarterback Jadyn Davis will be in Knoxville, Tenn., this weekend on a visit to Tennessee.
Davis is considered by some to be the No. 1 quarterback in the class of 2024, and by a subset of those people, to be the No. 1 player in the entire cycle.
The Volunteers will be playing No. 13 Ole Miss. Davis will not be the only superstar recruit in attendance as five-star defensive lineman Walter Nolen will be on an unofficial visit as well.
Everyone is battling to take an early lead for Davis
Despite being only a sophomore, Jadyn Davis has offers from some of the top programs in the country for multiple years.
As Alabama's offensive coordinator, Steve Sarkisian offered Davis in the summer of 2019 when Davis was a rising eighth grader and only 13 years old. He has been on multiple visits to Tuscaloosa, Ala., since then.
Georgia is also a team that offered Davis while in the eighth grade. Auburn, Maryland, Ohio State, Oregon, Penn State, South Carolina and Texas A&M have all also offered Davis.
He is also receiving significant interest from Clemson, which typically does not start offering players until their junior seasons. Jadyn Davis told Clemson Sports that he is in frequent contact with the Tigers.
His visit to Tennessee will not be his first of the season. Davis has been in attendance at some of the best games of the season, including Georgia's season-opening win over Clemson and the Penn State White Out victory over Auburn.
Lettermen Row followed Jadyn Davis for a game week earlier this season
Lettermen Row got exclusive access to Jadyn Davis in August to follow the starlet around during the week leading up to Fort Mill (S.C.) Catawba Ridge's game against Fort Mill (S.C.) Nation Ford.
The series featured stories on what makes Davis such a sought-after recruit, what his thoughts on some of college football's best programs and how he played in the rivalry matchup against Nation Ford.