WATCH: Tennessee DB Trevon Flowers makes great interception on tipped pass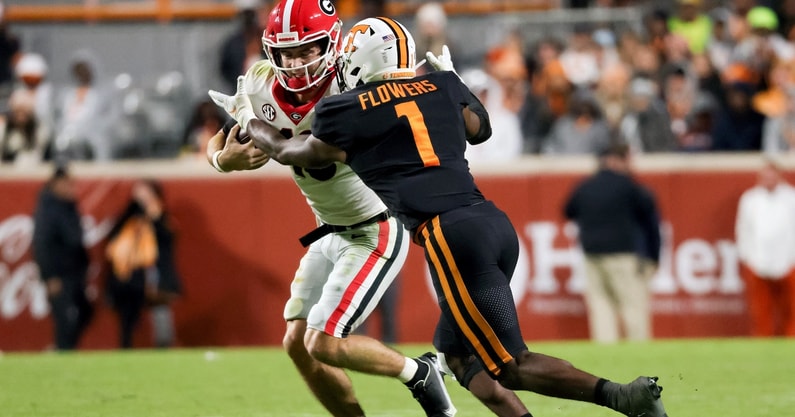 With Pitt pushing ahead to a 10-0 lead over Tennessee and threatening to stretch it to three scores, the Volunteers needed a play when Trevon Flowers provided. Pitt quarterback Kedon Slovis rolled right and chucked a pass intended for Bub Means in the back of the end zone, going for a 17-0 lead in the first quarter.
But Tennessee defensive back Kamal Hadden stuck a hand in as Means went for the ball, deflecting it upward. Flowers loomed in from the middle of the field, navigated both Means and Hadden while securing the ball and placing both feet inside the white line at the back of the end zone.
It was a big swing for the Volunteers, who parlayed the possession into their first points of the game shortly before the end of the quarter with a 1-yard Jabari Small rushing TD to end the first frame down 10-7, instead of 17-0.
Bru McCoy scored his first Tennessee touchdown on Saturday
Tennessee wideout Bru McCoy brought the Volunteers within a field goal of Pitt in the second quarter when he reeled in a 32-yard touchdown, his first as a Vol. Isolated in single coverage down the left sideline, McCoy beat out his man and quarterback Hendon Hooker located him in the endzone for the score.
It wasn't without a minor controversy, as McCoy had stepped out of bounds running his route, but he was forced out by the Pitt defender. A challenge by Pitt head coach Pat Narduzzi was to no avail and McCoy's first score as a Tennessee Volunteer held up, cutting Pitt's lead to 17-14.
McCoy transferred to Tennessee from USC and there were questions around his eligibility throughout the offseason. He showed against Pitt just why Tennessee wanted him in their offense.