All-American games notes on future Texas A&M players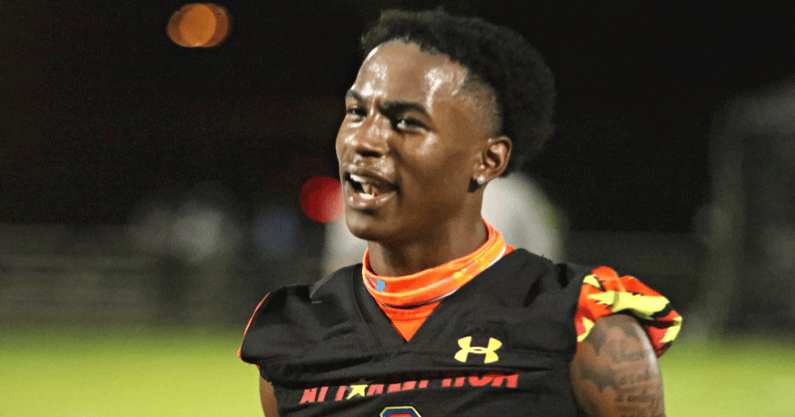 The 2022 cycle has been the year of Texas A&M on the recruiting trail. The Aggies have the top class in the On3 Consensus Team Recruiting Ranking. They have the more than half of the Five-Star Plus+ prospects in the cycle. And their recruits were more than impressive at the Under Armour All-American Game and All-American Bowl.
On3 Director of Scouting and Rankings Charles Power compiled notes on both offensive players and defensive players after the two All-American games over the past two weekends. Here are all of his notes on the future Aggies.
Notes on Offense
+ The talent level at quarterback at Under Armour was a bit lower than the All-American Bowl, especially throughout practice. Texas A&M signee Conner Weigman (No. 52 in On300) was the top quarterback on hand. Weigman was up and down at practice. He saved his best for the game, where he pretty clearly had the best showing among the signal callers. The dual-sport star (baseball) was able to use his athleticism and creativity to make some plays with his feet. We also saw him deliver some impressively-located downfield throws, showing nice touch.
+ Speaking of burst, Texas A&M signee Le'veon Moss (No. 109) may have had the most juice we saw from a running back at Under Armour. Moss's sub 11.0 100-meters speed transfers to the field. He lacks the on-field production of other top backs, but the quickness and speed are not in question.
+ Five-Star Plus+ receiver Evan Stewart (No. 8) got open at will throughout the week at Under Armour. The Texas A&M signee is a top separator with his combination high-end burst burst and route-running. Stewart primarily lined up in the slot on a team that had one of the best receiver groups I've seen in an all-star setting. Thus, we didn't get to see Stewart have too many premier matchups against true cornerbacks. He generally made easy work of opposing safeties. Stewart didn't have his best showing in the game with a pair of drops, with at least one looking directly into the sun. We won't ding him for that. Still, Stewart needs to get stronger at the catch point and in playing through contact. He looks to be around 5-foot-11, 170 pounds.
+ Texas A&M signee Chris Marshall looked like one of the more talented pass-catchers at Under Armour. Marshall is not as technically developed as many of his peers. He first came out for varsity football as a junior after focusing on basketball early on in high school. That, combined with a very low target and usage rate makes Marshall one of the more interesting receivers in the cycle. He only had 15 caches as a senior, but remarkably scored on 11 while averaging over 30 yards per catch. Marshall has an angular build. His long arms help create a considerable catch radius. Marshall has a smooth, gliding gait. Despite being one of the bigger and longer receivers in Orlando, we saw him get vertical against some top defensive backs. Marshall also made a pair of impressive grabs on the during the game, tracking the ball over his shoulder and showing some footwork on the sideline that belies his experience. Overall, Marshall looked like a stock up prospect and one of the more naturally talented receivers in the cycle.
+ Texas A&M signee PJ Williams (No. 44) is similar to Josh Conerly Jr. Williams has outstanding combination of length to go with twitchy athleticism. He struggled at times with his anchor. As is the case with most developmental offensive linemen, he'll need some time the weight room and at the training table. The upside is still evident, though.
Notes on Defense
+ We only got to see Texas A&M signee Enai White (No. 54) in one practice at the All-American Bowl before he was out for the week due to health protocols. White had a bit of an up and down day, but had some serious flash moments when at his best. He's tall with outstanding length and showed some twitchy closing speed. The Philadelphia native is not very nuanced as a pass rusher at this point, but the physical ability and upside was on display in San Antonio.
+ Walter Nolen (No. 14) came to Under Armour in the best shape we've seen him in over a year – and it showed in his play. The Five-Star Plus+ prospect is down about 30 pounds from the summer and was noticeably lighter on his feet. Nolen has always been a top athlete for his size and position, but he's able to maximize his ability at the lower playing weight (310 to 320 pounds). The Texas A&M signee was the best defensive lineman at Under Armour over the balance of the week. His first-step and play strength create considerable issues for even the best offensive linemen in the cycle. One of Nolen's differentiating characteristics as a defensive tackle is his ability to kick out and push the pocket as a big defensive end. Nolen has always been one of the top talents in the class. Some prospects who rise so early can plateau towards the end of their high school careers – that doesn't appear to be the case here.
+ Gabriel Brownlow-Dindy (No. 3) was a late arrival at Under Armour. We only got to see him practice on one day and a bit during the game. The Texas A&M signee has a filled-out, compact but not short build with long arms. The defensive line group at Under Armour was very deep and he passed the eye test in our brief exposure.
+ Anthony Lucas (No. 13) was among the several Aggie signees in Orlando. The Arizona product can be a frustrating evaluation at times. Lucas is among the more physically-gifted prospects in the cycle. He has an outstanding frame with advanced flexibility and athleticism. With that said, Lucas has a tendency fade into the background both in games and in this all-star practice setting. We didn't see Lucas take a ton of reps over the first few days at Under Armour. Then he comes out has one of the more impressive reps of the week, beating Alabama signee Tyler Booker in a 1-on-1. The physical gifts are obvious, but Lucas will need to improve his play personality to maximize the ability.
+ Harold Perkins (No. 8) entered the week at Under Armour as the de facto top linebacker prospect nationally. Perkins had a relatively quiet week. Some of that may have been due to seeing some time as a running back in practice. Still, we saw the Texas A&M commit's elite athleticism on display over the course of the week. He's one of the best athletes relative to his position in the cycle. Though he's been listed at around 6-foot-3, Perkins looked to be closer to 6-foot-1 to our eyes.
+ Denver Harris (No. 16) was a late arrival at Under Armour, coming in mid-week. The Texas A&M is a smooth mover in coverage and plays with good technique. Jordan Hudson got the better of him in 1-on-1's, but that was probably more about Hudson than mistakes from Harris. The Houston native caught our eye in the game with some physicality as a tackler.
+ Bryce Anderson (No. 35) worked at safety at Under Armour after spending the majority of his high school career as a quarterback. Anderson has elite straight line speed as a sub 10.5 second sprinter. The 5-foot-10, 190-pounder did not look out of place in coverage despite his lack of experience. He's a smart player with athletic upside.