Las Vegas puts Texas win total odds at 8.5 for 2022 season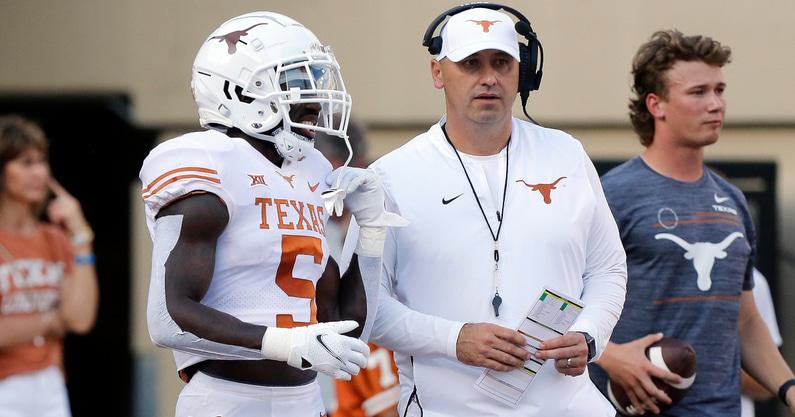 The Steve Sarkisian era with the Texas Longhorns started off on a high note, with a 4-1 record through five games. From there, though, everything went wrong for Texas. The Longhorns lost their next six games and finished the year 5-7 overall after a win in the regular season finale. Now, all eyes are on improvement in 2022.
Ahead of the 2022 season, Vegas Insider set the over/under for the number of expected wins for each team. Vegas listed Texas with an over/under of 8.5 wins in 2022.
Reaching that mark won't be an easy task for Texas, as the Longhorns do play a tough schedule in 2022. They start the year with three consecutive home games, including the season opener against UL Monroe. Texas then hosts Alabama before ending the homestand with a matchup against UTSA before getting into Big 12 play.
Texas is not the betting favorite to win the Big 12 in 2022. That honor instead belongs to the Oklahoma Sooners. Oklahoma is listed with 7/4 odds to win the conference as of now, with Texas coming in at 2/1.
Steve Sarkisian sends message to Texas fans, donors
Even though his first season at Texas didn't go according to plan, Sarkisian expects sizeable improvement in 2022. Even in an evolving world thanks to NIL and the transfer portal, Sarkisian is asking for some simple support from the Longhorns fan base and donors. It comes down to winning, but Sarkisian hopes that the process can be sped up to achieve his ultimate goals.
"Ultimately, we got to start winning some more games. … I'm not naive to that," Sarkisian said. "But as far as just people tugging and pulling and moving in different directions, no. I felt like everybody is moving in a positive direction. That was something that I challenged our fan base to do, our donors to do, our administration to do, was trust the fact that you hired me to do a job.
"Let's get on board and let's all move in the same direction to make this thing special again."
The Longhorns will look different on the field next season thanks to some notable acquisitions through the transfer portal. Texas notably added quarterback Quinn Ewers, and wide receiver Agiye Hall is still trending in a good direction, according to the second-year coach.