Steve Sarkisian reveals plans to visit with Sean McVay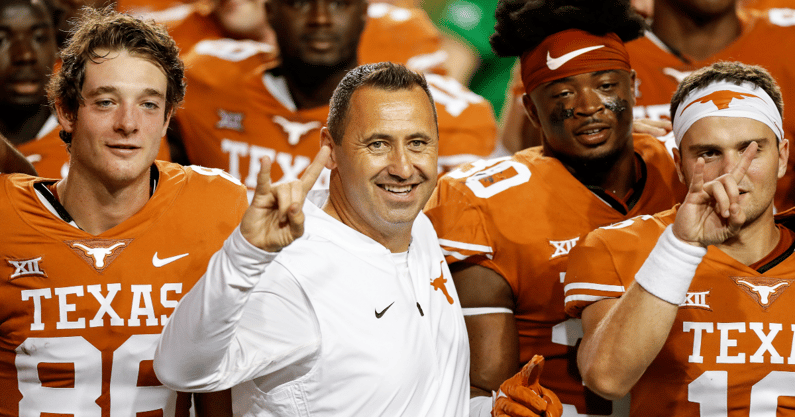 Texas head coach Steve Sarkisian is getting ready to take a vacation. Well, it might technically be a work vacation since he has a meeting to attend.
Sarkisian told reporters he and his family are heading to California next week to see family. But while he's out there, he plans to meet with Los Angeles Rams head coach Sean McVay to find "one or two more touchdowns," according to Inside Texas' Joe Cook.
Texas could have a revamped offense this year after landing former Ohio State quarterback and Five Star Plus+ recruit Quinn Ewers from the transfer portal. If there's someone to talk to about offense, it's McVay. He's considered one of the best offensive minds in the NFL and helped the Rams — led by Matthew Stafford — to a Super Bowl LVI title this year.
In 2021, Texas ranked second in the Big 12 in scoring offense, averaging 35.3 points per game. The Longhorns had Casey Thompson under center, but he transferred to Nebraska in the wake of Ewers' commitment. Texas went 5-7 record last year, just missing out on a bowl game in Sarkisian's first season at the helm.
Steve Sarkisian says he 'feels good' about receiver Agiye Hall's transfer status
While speaking about the status of former Alabama receiver Agiye Hall and him joining Texas, Sarkisian was optimistic about the transfer. Hall recently deleted all social media posts on his accounts related to Texas, causing many to wonder if his transfer to the Longhorns was official.
"At a Texas Exes speaking tour, coach Steve Sarkisian said he 'feels good' about Alabama wide receiver transfer Agiye Hall's status because he has already signed a financial aid agreement," The Athletic's Sam Khan Jr. said. "FYI, those tie school to player, not player to school."
As Khan noted, the financial aid agreement Hall signed doesn't bind him to attend school at Texas this season. However, it binds the Longhorns to him if he chooses to enroll. Inside Texas' Joe Cook added that Sarkisian also explained another recent controversy regarding Hall's transfer — that he was not listed on the Texas roster online.
"He was never on our roster because we don't put players on our roster until they arrive. We feel good about that," said Sarkisian, via Cook.