Texas Football: Steve Sarkisian announces change at quarterback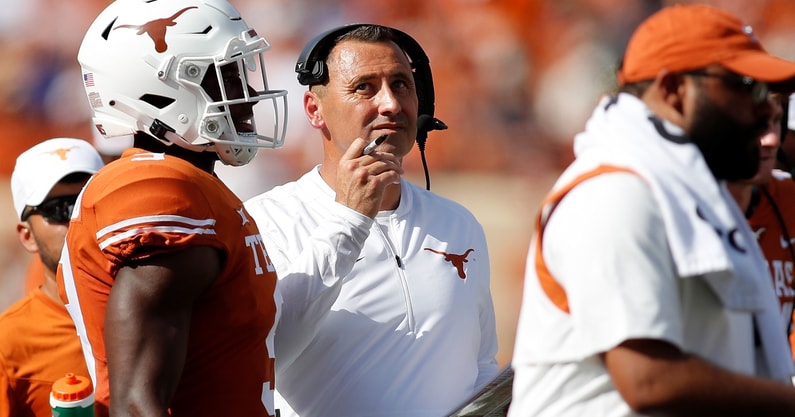 Casey Thompson will start at quarterback for the Texas Longhorns this weekend.
According to head coach Steve Sarkisian, Hudson Card will backup Thompson as the Longhorns take on Rice. In today's press conference, Sarkisian detailed his decision to go with Thompson.
"I think both guys are competing like crazy. Like I said all along, we're going to need both of them," said Sarkisian. "I think it's fair to give Casey the opportunity, and we'll see what happens."
Additionally, Sarkisian mentioned that the Longhorns passing game hasn't been up to snuff.
"Our passing game has been spotty at best," said Sarkisian. "For us to go as an offense, that has to be a factor for our opponents."
Following a great start to his head coaching tenure, Sarkisian's team came out flat against Arkansas. Card was especially ineffective, passing for just 61 yards in the loss.
Coming in late to try to lead a comeback, Thompson completed five of eight passes for 57 yards. While Sarkisian believed putting in Thompson earlier may not have led to victory, the Texas offense looked better with Thompson under center.
Sarkisian: 'Hindsight is 20/20'
During his postgame press conference following Texas' loss on Saturday, Steve Sarkisian fielded questions about his team's disappointing night. The biggest question of the night among many fans was why he continued to let Card remain in the game, despite his poor offensive showing.
Additionally, Sarkisian was asked if he had thought about switching to Thompson earlier in the game as a way to jumpstart their offense.
"Yeah I did. Again, it was a gut thing," Sarkisian answered. "Hindsight is 20/20. Maybe you look back and do it earlier. But we did it when we did it.
"I was proud of Casey and the way he competed. Again, we didn't as a team play well enough on early downs and we put ourselves in really difficult third and long scenarios."
Continuing, the Texas head coach explained that trouble on early downs led to the team's offensive struggles.
"It's hard to convert third-and-nine, third-and-tens consistently," Sarkisian continued. "And that's where we lived tonight and you're not going to win playing that way. You've got to play better on first and second down and we didn't do that tonight."
By starting Thompson against Rice, he allows his quarterback to get his feet wet prior to some big-time Big 12 matchups. As Casey Thompson takes over, it's paramount to get him going before games against Texas Tech, TCU and Oklahoma.
On3's Austin Brezina contributed to this article.