Additional details emerge regarding possible tampering with Jordan Addison, USC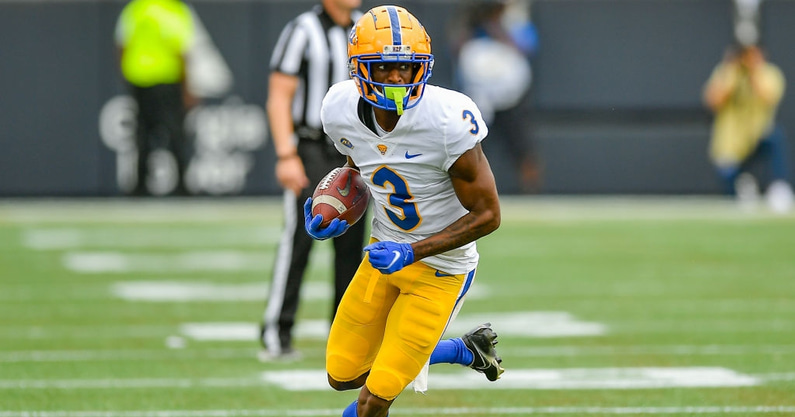 Additional details have emerged, highlighting potential USC involvement in recruiting Jordan Addison before he enters the NCAA Transfer Portal. Pittsburgh has alleged that USC is recruiting Addison away from their school with a possible NIL deal — while Addison has not yet entered the transfer portal.
Pittsburgh alleges USC of tampering in Jordan Addison recruiting
"Jordan Addison is not in the transfer portal, which means coaches from other teams cannot contact him," detailed PantherLair.com. "[Also] Jordan Addison is in Los Angeles today."
The explanation and information regarding Addison's visit to Los Angeles comes after an earlier report that Pitt coach Pat Narduzzi called USC and spoke with coach Lincoln Riley regarding Addison. Narduzzi allegedly accused the Trojans of potential tampering, as Addison is not yet in the transfer portal and cannot be contacted by other schools. Addison has to enter the portal by May 1 to be eligible for next season after the transfer, without requiring a waiver.
While Jordan Addison being in Los Angeles does not directly implicate USC and any potential recruiting efforts, the timing of everything is raising questions from the college football world.
ESPN insider Pete Thamel on possible recruitment
"This is a really fascinating situation that's suddenly thrust itself to the forefront of being the biggest story in all of college football," Thamel said. "Jordan Addison won the Biletnikoff [Award] last year. He was a first-team All-American. The Pitt football staff has essentially accused USC of tampering in this situation. They feel strongly like USC is a possible destination.
"It's to the point where Pitt coach Pat Narduzzi multiple times called USC coach Lincoln Riley yesterday and had some pointed conversations with him to express his displeasure. I really think we may look back on this as something in college football that's a little bit of a pivot point. You have one of the most established stars in the sport who will find out in the next 18 hours whether or not he could go on the open market."
Last year with Pittsburgh, Addison had 100 receptions for 1,593 yards and 17 touchdowns to help lead the Panthers to an 11-3 overall record, including a 7-1 mark in ACC play. He's a potential preseason All-American candidate for the 2022 season and garnering some way-too-early 2023 NFL Draft hype. Jordan Addison joining USC could be a way to increase his star power even more, but Pitt does not seem to approve of how it is happening.
On3's Nick Schultz contributed to this article.