Caleb Williams details what has impressed him most with Jordan Addison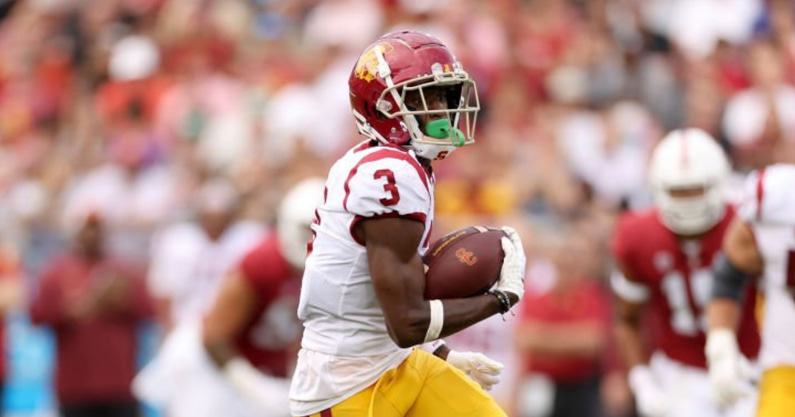 With two win in two games and 107 points on the books — admittedly with three defensive touchdowns — the triumvirate of Lincoln Riley, Caleb Williams and Jordan Addison is off to roaring start at USC. While there are plenty of questions to answer on the field, still, the Trojans are clearly on the right track under new leadership.
Addison has arguably been the most impressive of the aforementioned trio, as the receiver and 2021 Biletnikoff winner has 12 receptions for 226 yards and four touchdowns to date. Williams recently explained how Addison's ability to attack defensive backs and the space they're trying to guard makes him such an effective target.
"He's smart, he knows how to get up on defenders and get on their toes and make them feel uncomfortable," Williams said. "Because that's their most uncomfortable position when you have a receiver like Jordan that can get up on their toes. We have a bunch of guys that do that pretty well. It's — got a good group of wide receivers that I get to have fun, drop back and throw the ball to them, to do special things like Jordan does."
CLICK HERE to subscribe to the On3 YouTube channel today for all of the latest news on college football, recruiting, NIL, more!
It has surely been fun for Williams to chuck it around the yard with a loaded receiving corps. He's completed almost 80% of his pass attempts for 590 yards, six touchdowns and no interceptions, a bulk of that with Addison on the receiving end.
Mario Williams — a transfer wideout from Oklahoma who followed Riley to Los Angeles along with Caleb Williams — has also showcased his immense talents, catching six passes for 117 yards and a touchdown through two contests. He's also carried the ball once for 10 yards, a wrinkle to keep an eye out for.
With Addison coming in from Pitt and Riley bringing along players from Oklahoma — plus a bevy of other transfers in — USC has hot wired whatever rebuild needed to happen and are racing away from the competition so far.