Caleb Williams explains how his responsibilities change with so many new faces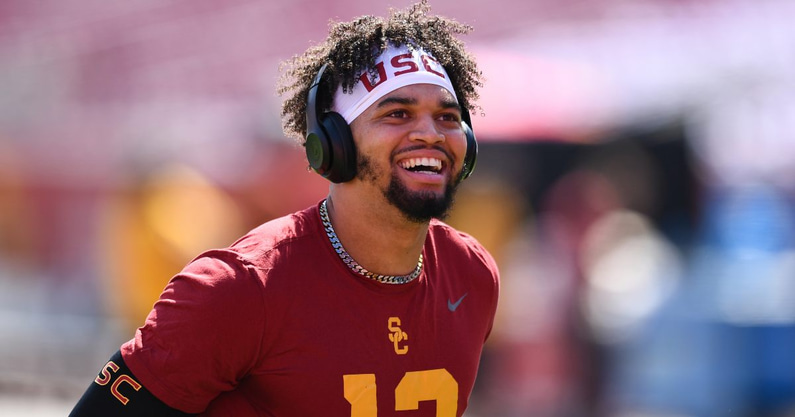 Caleb Williams was the headline-grabbing addition for USC this offseason — well, aside from Lincoln Riley — but he is one of a spate of new faces that transferred to play for the Trojans this year. After one season as a true freshman at Oklahoma, Williams has already stepped into a bigger role as a leader in Pasadena.
Williams — and fellow former Sooner Mario Williams — despite being a sophomore, is one of the most well-versed players in the scheme Riley and USC will be running. It's a big shift, but one the highly-touted signal caller seems to be embracing.
"It's unique, I get to help out and teach a little bit more than I probably would have to if I was with some of those guys over there that've been in the offense longer than even me, possibly," Williams said. "And so, being here, I get to teach but also, it's a new challenge for me and new challenges are great — just depending on how you take 'em. So it's been awesome. We've been getting a lot of reps together. We've been working really hard, talking through things. Me getting out there, possibly running it how I either see it or want them — where I want them to be."
CLICK HERE to subscribe for FREE to the On3 YouTube channel
Williams transferred to USC from Oklahoma shortly after Riley took the job, and the duo have spent the spring, summer and now fall camp getting comfortable. Williams took that time to get on the same page with his offensive teammates, which include former Sooner receiver Williams, Pitt transfer wideout Jordan Addison, Washington transfer receiver Terrell Bynum, Oregon transfer running back Travis Dye and Stanford transfer running back Austin Jones.
"We've come together a lot more," Williams said. "We've gone over our installs multiple times. We've ran thousands of plays. Repped it thousands of times. So, coming together on the football field, I think we've for sure done that a lot more than we were — or we're like that more than we were in the spring.