Donte Williams talks about bye week plan, preparation for Notre Dame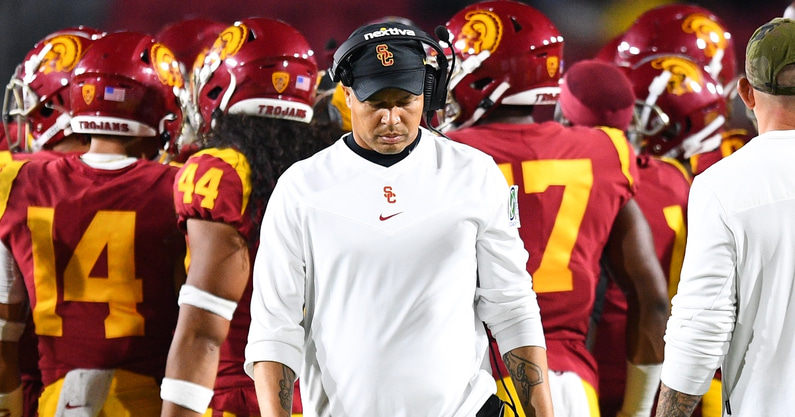 After losing at home to Utah for the first time since 1916, USC's bye week could not have come at a better time. The Trojans' defense has been dismal, and a few banged up players on offense will get some much needed recovery time. 
USC interim head coach Donte Williams joined "Trojans Live" on Tuesday to talk about what he will address with his team during the bye week and how it will prepare them for an Oct. 23 date with Notre Dame in South Bend.
"We're going to go back to technique and fundamentals," Williams said. "You can see some things as far as whether it's blocking and us not finishing the block. You can see us taking on blocks and we're looking over shoulder pads instead of in armpits, so it's making us play high. Just all the little things that, say, maybe like in the summer and spring you can focus on. Once you get into the season, everything is so just geared toward the opponent. So we have to make sure we get back to technique and fundamentals."
Both USC and Notre Dame are having surprising seasons, albeit in different ways. The 3-3 Trojans have yet to win a game at home against a Power Five opponent, they have not won consecutive games, and they fired their head coach earlier this season after two games. 
The offense typically has not been the problem, although quarterback Kedon Slovis has had some rough patches this season including three interceptions against Oregon State. Slovis leads the Pac-12 in passing yardage despite missing nearly all of the Washington State game after suffering and early injury. 
The Trojans defense has been terrible, allowing 27.3 points per game, including 43 points per game in each of their three losses. In total, USC is one of the most penalized teams in the country; they have 50 penalties for 499 yards this season, which is tied for 121st in the FBS.
Irish also struggling with consistency issues
They will face a 5-1 Notre Dame team also coming off a bye week which has been in close games all season, is playing quarterback roulette with three different starters with three different skill sets, and which has massive issues on the offensive line, a near-constant strong point on the team in recent memory. 
"When we get to scout periods or service periods, it will be more of a jog through for six minutes to make sure we truly see Notre Dame's plays, and we see them almost going 65-70%, but then we do those same plays going full speed just so we can get ahead of ourselves with what we have coming on for Notre Dame," Williams added.
While USC has had their defensive struggles, true freshman edge rusher Korey Foreman is heating up and could wreak havoc in the backfield if Notre Dame is not prepared.
While this is obviously not a conference game, a win over the No. 14 Irish in South Bend could be the spark that sends USC back to its Pac-12 schedule with a new energy. Even with three conference losses, Williams believes the unpredictability in the Pac-12 leaves the door open for USC to make a run at the Pac-12 title game.
The game in two weeks kicks off at 7:30 p.m. ET on NBC.