Joel Klatt breaks down USC's trouble area through first three games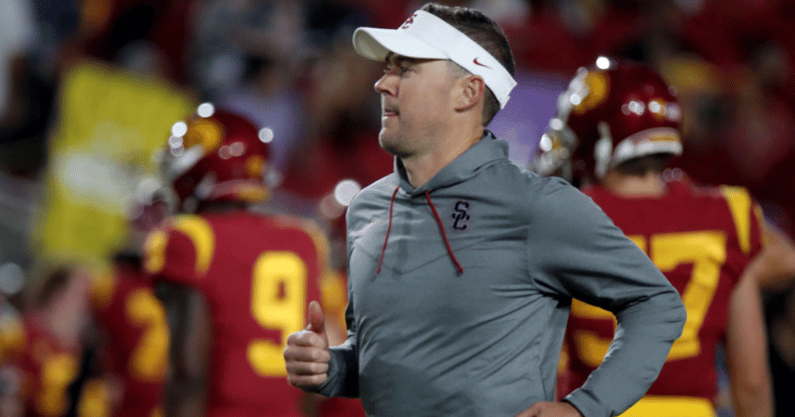 The Lincoln Riley era is off to a successful start at USC. 3-0, top-10 ranked, No. 1 in the nation in turnover margin. Everything coming up roses for Riley and co. However, college football analyst Joel Klatt made the bold take on The Herd with Colin Cowherd that the Trojans simply aren't contenders this season. The reason: their defense.
Here was Klatt's reasoning, which started by him pointing out how little Riley inherited previously. Noting that turning a program around that quickly into a national title contender is nearly impossible.
"So let's go to USC. I am viewed as a little bit — I get this label that I'm pro-USC when I have been saying they're not built right now to beat Utah. They are probably not built to beat Notre Dame. But my takeaway has been, you see, Brett Venables inherited 11 wins. 11 wins, 11 wins, 11 wins, momentum, culture. Lincoln Riley inherited a tire fire and I don't think he can fix both sides of the ball in one class. I think he fixed the offense. I do not think they're good enough defensively to beat Oklahoma, to beat a Georgia, to beat Alabama, to beat Michigan, to beat Ohio State."
So Klatt says USC isn't among the top dogs and wouldn't beat them. Bookmark that, Trojans fans. Then the analyst moved on to discuss the USC defense, its pitfalls and its timely turnover luck to start the season. That unit won't give their great offense any breathing room, Klatt believes.
"The only defense that they're playing better than in the Pac-12 is Colorado and that's not saying much. So no, the the defense is 11th in the Pac-12 right now and the only thing that they do well is that they steal possessions for their great offense. So they've gotten 10 turnovers. They haven't turned the ball over. Those 10 turnovers are tops in the country, so they're doing well at that. They're creating havoc plays, but they can't just sit there and stop people. And eventually that may catch up with them. Because the more pressure that you put on Caleb Williams and Lincoln Riley and that entire offense — you can never have a bad day on offense like they did last year."
Lastly, Joel Klatt finished up by addressing their Pac-12 opener at Oregon State this week. A program on the rise that gave Utah and Washington hell a year ago at home. So a losable game for sure and the first true test for USC under their new regime.
"I actually think this week is a really difficult game for USC. They're going to Oregon State, and Oregon state is a place that USC historically has had problems with. And Jonathan Smith, Oregon State's head coach, is a really really good coach. He's going to be mentioned for all of these open jobs. Nebraska, Arizona State, etc. And further, they were 6-0 at home last year. Two of those wins: Washington and Utah. Yeah, they have two pros on their offensive line and long, excellent corners. So I think USC could be in in a dog fight there."