Lincoln Riley opens up on the difficulty of overcoming emotions following Travis Dye injury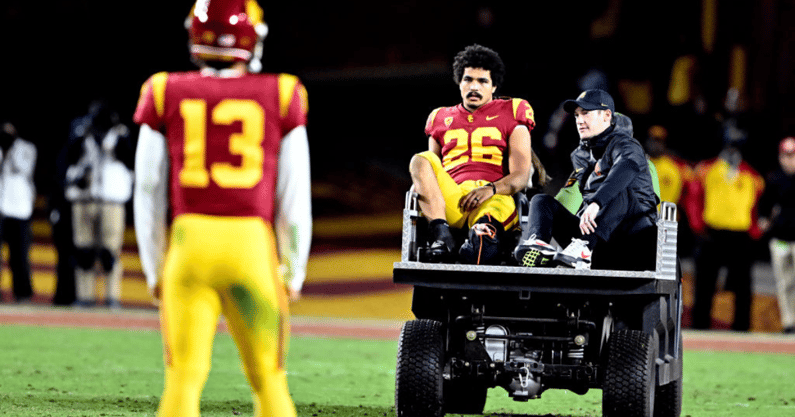 It was a tough scene last week when USC star running back Travis Dye left the Trojans' game against Colorado on a cart with an air cast on his leg. Understandably, the players and coaches looked shaken up afterward.
Lincoln Riley recalled the moments after Dye hit the turf and learned the severity of the injury. In fact, one of Riley's former Big 12 opponents from his days at Oklahoma came up to him after Dye stayed on the turf, which showed him just how serious things were.
CLICK HERE to subscribe for FREE to the On3 YouTube channel
"It's not easy," Riley said. "Honestly, it's tougher when it's on your side, but even when I've been a part of games where it's been on the other side, nobody wants to see injuries like that. Nobody.
"The first way I knew on the field was their linebacker, [Josh Chandler-Semedo], who was a transfer from West Virginia and I'd coached against him a few times … he came over and like grabbed me and he was like, he saw and said, 'No, you've got to get out here now.'"
Lincoln Riley on his halftime message: What would Travis want us to do?
Dye's injury happened in the second quarter of the game, meaning the teams were getting ready to head to the locker room for halftime shortly afterward. That meant in addition to talking to his team about the game, Riley had to make sure they were able to re-focus after such a scary scene.
Ultimately, it came down to one thing. He wanted the Trojans to channel Dye's competitiveness.
"I think the guys, after their emotions settled down, we got in the huddle and even talked about it quickly with the whole team at halftime," Riley said. "We all hate it, we're all sick about it but the reality is, Travis — the competitor of all competitors — what would he want us to do right now? Would he want us to sit here and sulk about it or would he want us to go in there and compete at the level we've been competing at since day one, him being a huge part of that? You've got to get past it. It's not easy because yeah, your emotions are swirling as teammates.
"As coaches, you feel responsible for every single thing that happens out there. You feel — especially ones like that with a senior and a guy that's been a part of it. You kind of feel the weight of that. I've obviously been a part of injuries. You only typically have a handful of ones like that in your career. That was heartbreaking, but at the same time, he's got a lot in front of him. If anybody's going to bounce back from that, and he certainly will, he's wired for it."
Travis Dye has had 'strong' impact at USC
Dye hasn't been at USC that long — he committed to the Trojans in January after entering the transfer portal — but he's made quite an impact as a leader. Riley has said multiple times USC likely wouldn't be in the hunt for a College Football Playoff spot without Dye and what he brings every day in practice.
That wasn't surprising based on the staff's early conversations with Dye once he entered the portal.
"You never know until you get in the fire with somebody, but even our initial conversations with the kid, you could tell he was wired to want to come win," Riley said. "His motivation for coming here, he didn't have to. He was an established player, he was at a good program. This wasn't like some deal where it's like, 'I'm leaving a program that hasn't won in a year. I haven't had much success.'
"He, kind of like a lot of these guys, saw, 'Man, I can kind of go back home and this program I grew up watching and supporting, was so close right here. I can come be a part of this in my last deal. What a chance for me to go out and what a chance for me to make an impact.' He had that from day one. He was team first, all-in. He's like Shane and a bunch of these other guys that have led the charge that way. I can easily say we wouldn't be sitting where we are without him. His impact has been that strong."