Matt Leinart believes 'it's time' to return Reggie Bush's Heisman Trophy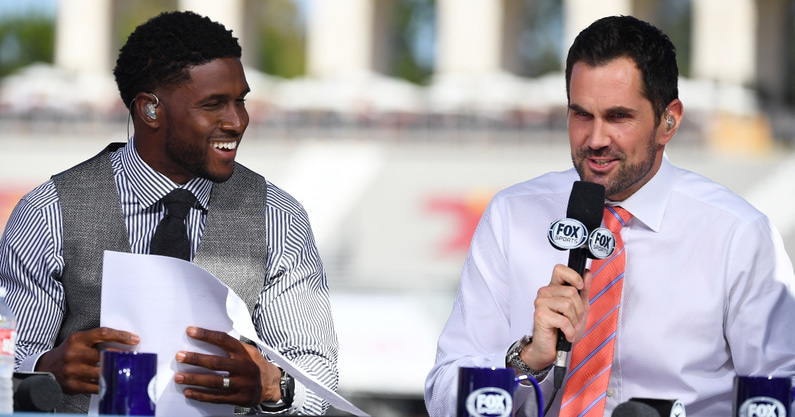 In the new era of NIL, many college football fans across the country assumed that legendary Trojan running back Reggie Bush would finally be handed his 2005 Heisman Trophy back by the Heisman Trust. However, that wasn't the case and the Heisman Trust released a statement in early July of 2021 as to why the electrifying tailback wouldn't be getting his coveted hardware back. His former teammate, USC Trojan legend Matt Leinart saw "Reggie Bush and Heisman" trending on Twitter on Saturday and decided to pounce on the opportunity to stump for his longtime friend.
In July of 2021, Bush released a statement about unsuccessfully trying to get his Heisman back. It's quite a shame, since he was one of the greatest running backs to ever suit up in college football. Few running backs in the sport will ever be as electrifying as Bush. His iconic Heisman-clinching moment likely came against the Fresno State Bulldogs. In the third quarter with 1:29 on the clock, Bush took the handoff at the 50-yard line, knifed his way through the Bulldog defense to the 23-yard line, right at the sideline. It was then that he was able to magically stop on a dime, leaving Fresno State defenders in his wake, and cut back all the way across to the middle of the field for the score. All the former Helix High (La Mesa, California) star did in that game was rack up over 500 all-purpose yards in a legendary performance. The 513 all-purpose yards were a Pac-10 record.
Bush's performance propelled the Trojans to a 50-42 victory on Nov. 20, 2005. The win saved the Trojans' season and ensured they would remain undefeated. USC would go on to face the Texas Longhorns in the 2006 Rose Bowl for the National Championship.
In his Heisman-Trophy winning season in 2005, Bush knifed his way through opposing defenses to the tune of a staggering 2,611 all-purpose yards, while scoring 18 total touchdowns. To this day, Bush is still deservedly recognized as one of the greatest college football players of all-time. And while the USC Trojans lost in a classic 2006 Rose Bowl to Vince Young and the Texas Longhorns, the Trojans' team is also considered one of the greatest college football teams of all-time.
In September of 2021, Herschel Walker said he was going to fight for Bush to get his Heisman back. Unfortunately for the Trojans star and college football fans across the country, that hasn't happened.