Lincoln Riley says USC took 'huge steps' in defensive recruiting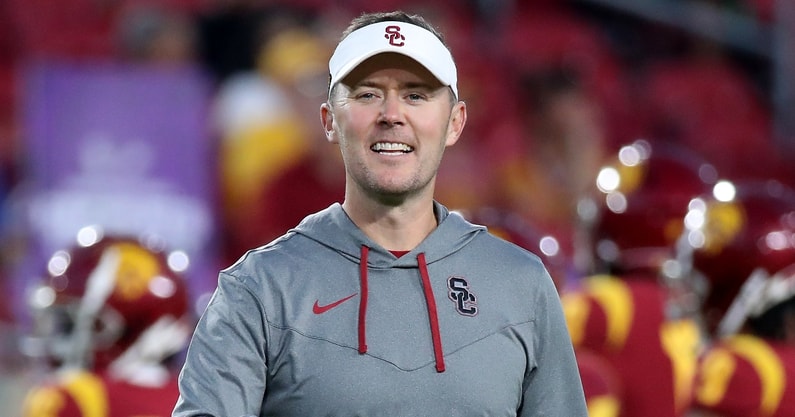 Offense has always been the calling card for USC head coach Lincoln Riley, regarded as one of the best play callers and offensive minds across all of college football. But the defensive side of the ball is where he wanted the program to focus on in recruiting, which he spoke on following National Signing Day.
"We took some huge steps. I mean listen, there's no two ways about it there were several positions defensively that we landed on and were able to get our very early on, high-end targets, and those were really important," Riley said.
Only eight of the Trojan's 19 signees from signing day play on the defensive side of the ball, but Riley was pleased with the talent he acquired, highlighting some of their top defensive prospects that will join the team next season.
"There wasn't a linebacker in the country we wanted more than Tackett Curtis, I think he's the best inside linebacker in the country, there's not one I would take over him, I think he is phenomenal," Riley said. "We zeroed in on a couple on a couple EDGE guys pretty early, Braylan Shelby and DJ Peevy, and we love what they bring to the table."
The Trojans definitely made their front seven a point of emphasis in recruiting, going across the nation to find top talent to play in their defensive trenches, a strategy that worked in their favor this season.
"And we really zeroed in on a couple east coast defensive lineman in Elijah (Hughes) and Sam (Greene), and being able to get both of those guys here, both of them having the courage and the trust to make that jump from the east coast was a great thing," Riley said. "And I do think some of this current team's success from individual players from the east coast, we obviously have several of them, was a factor there without a doubt. Specifically in the front seven, which I think that was a huge focus for us going into this class, we've certainly made some noise."
USC has also been active in the transfer portal, getting commitments out of four defensive players to help bolster their signing class. The Trojan's recruitment of defensive high school prospects is a solid start, but them rounding out their 2023 class with some transfer portal signees that can make an instant impact could be the icing on the cake to their first full offseason of recruiting under Riley.
"And then obviously we've had some success in the transfer portal, we'll have more here in the coming weeks to continue to add to that. But front seven was front and center in all of our minds and I think when you land on a couple of your top prospects the way that we did was really a home run for us," Riley said.