USC insider provides critical update on timeline for Caleb Williams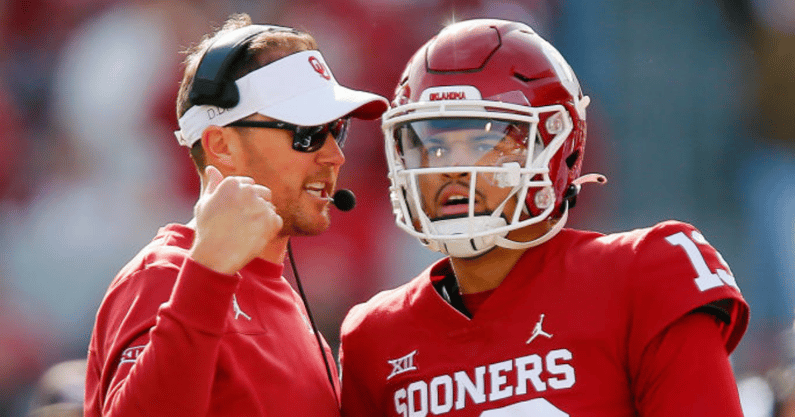 Caleb Williams has yet to decide where he plans to transfer, and could take more visits before any potential announcement, but the clock is ticking if he plans to enroll at USC. According to Los Angeles Times writer Ryan Kartje, the final day for USC football players to enroll as full-time students and take place in spring practice is Jan. 28.
With more than two weeks left, there is no rush at the moment for Williams, but with no timetable from him and his camp there will be speculation until that date. While Jan. 28 is the final day to enroll, in-person classes are set to begin on Jan. 24.
Caleb Williams and his family recently visited USC and UCLA, after he entered the transfer portal, but he did not enroll with either. A former five-star recruit, he burst onto the scene for Oklahoma this year in place of Spencer Rattler, who was benched mid-year. Rattler ended up transferring to South Carolina.
Potential impact of Caleb Williams
Lincoln Riley has been the head coach at USC for just a couple of months and he is already experiencing something he never had to at Oklahoma — quarterback problems. The past two starters for the Trojans are on their way out of the program in Kedon Slovis and Jaxson Dart.
However, there is one name out there that Riley has to land in order to get his tenure at USC off to a hot start in Caleb Williams. The former Oklahoma Sooner sent the college football world into a frenzy by entering the transfer portal. And USC instantly became the favorite due to Williams' connection to Riley.
When discussing the possibility of Williams heading to Los Angeles, LA Times writer Ryan Kartje laid out how the former On3 No. 1 overall player could impact the USC program. He said Williams is "on another level" and would speed up Riley's rebuild.
"Jaxson Dart had a really impressive debut season while thrust into a difficult spot as a freshman," Kartje said. "USC would've been just fine with him at the helm next season. With Riley guiding his development, a Dart-led future looked pretty bright at USC, and I have no doubt he'll make another team very happy as its quarterback.
"But Williams is on another level. He's already being viewed as a candidate for the top pick in the 2024 NFL draft. His arrival would immediately set USC on a different course over the next two seasons. He's already comfortable in Riley's offense, and while he wouldn't have the same caliber of weapons to work with, there's no doubt he would immediately step in as one of the best quarterbacks in the Pac-12. That goes a long way when you're trying to rebuild a program."