10 Takeaways from Louisiana spring games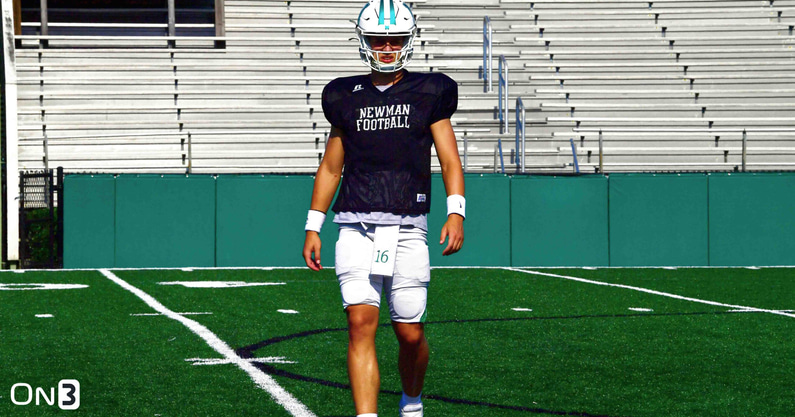 On3 National Recruiting Analyst Sam Spiegelman spent the final week of spring football season in The Boot checking out a handful of spring games across North and South Louisiana. Among the games attended included that of On3 Consensus top-100 players like Arch Manning, Eli Holstein, Zalance Heard and Derek Williams.
From new recruiting scoop, to new On3 profiles and other takeaways, here's more from Spiegelman on the road:
Manning closes spring with a bang
Five-Star Plus+ QB Arch Manning opened the spring in mid-season form and wrapped up the spring on another high note. Manning, the Consensus No. 1 player in the country, continues to evolve and polish up his game. This time four years ago, we saw a preview of the type of signal-caller Manning would evolve into — meticulous, accurate and fantastic athleticism. Last Friday, he effortlessly pushed the ball downfield with outstanding deep-ball touch to a host of different receivers. He carefully went through his reads and showcased sharp mechanics as he led the New Orleans (La.) Isidore Newman offense up and down the field, timing his throws over the middle and outside the numbers and flashing with his decision-making as also his quick trigger, finishing the exhibition with five touchdowns and even more anticipation for this coming fall.
Manning has three official visits lined up for next month. One thing we learned this spring was that Texas, Georgia and Alabama are all very much in the mix for the QB1.
In the process, Manning's left tackle, 2025 offensive lineman Brett Bordelon, was terrific. The 6-foot-4, 270-pounder swelled up this offseason and is a mauler off the edge. Bordelon is an enforcer in the run game, like his brother Bo, and some SEC coaches believe he's already on par with his brother physically going into his junior year.
Holstein shines in finale
After a stellar junior campaign, Holstein capped the strong with even more momentum. The 6-foot-4, 225-pounder was magnificent airing it out during the Zachary (La.) spring game in front of Alabama offensive coordinator Bill O'Brien and LSU quarterbacks coach Joe Sloan. Holstein was sharp attacking downfield and made a handful of plays with his legs either extending a play or taking off in the open field. Always aggressive attacking downfield, Holstein was even more efficient this outing and turned heads in the process. He's giving me Andrew Luck vibes after this spring.
Louisiana is in a unique position this cycle to have some of America's best quarterbacks all within a few miles of each other in Manning, Holstein and Rickie Collins Jr. Alabama leads the way on the Recruiting Prediction Machine for Holstein, but both Oregon and LSU are still in the picture.
Three-star EDGE Ashley Williams Jr. is one of the most intriguing defensive players in the state after adding almost three inches and 25 pounds to his frame this offseason. The 6-foot-6-plus, 230-pound hybrid EDGE rusher has not only length but speed to the sideline and a willingness to lower his shoulder. He has two Big Ten official visits locked in for June, but the SEC is certainly well-aware of Williams.
Heard checks all the boxes at LT
There have been a series of elite big men to come through Monroe (La.) Neville. Rashard Lawrence, Phidarian Mathis and most recently, Will Campbell have been stars in the trenches for the North Louisiana powerhouse. Without any doubt, Zalance Heard is next in that storied line of talent.
Heard, the No. 16 overall player on On3, made the transition from defensive line to offensive line, and this spring made the seamless transition to left tackle. At 6-foot-8 and 300-plus-pounds, Heard already has the looks of a collegiate tackle. He also plays like one — with nimble feet and excellent power, and after an in-person evaluation, he is just scratching the surface. Heard was able to absorb pass-rushers and bounce them off consistently and has excelled under fantastic coaching at Neville. He put together some highlight-reel blocks and has the frame, strength, agility and understanding of the game to be one of the best at this premium position.
LSU has a commanding lead on the RPM, but Florida State, Texas, Houston, Oklahoma State, USC and Nebraska remain involved.
The Raptor is in rarified air
In what's shaping up to be an elite class for safeties, four-star New Iberia (La.) Westgate's Williams is quietly making a compelling case to be considered for the top spot. At 6-foot-2 and 190 pounds, Williams — tabbed as the No. 2 safety nationally on On3, is coming off a stellar postseason run in which he played multiple positions to lift his team to its first-ever state title. That includes roles on defense, offense and special teams.
Williams, who plays with a downhill mentality at safety, was seamless in coverage during spring workouts, easily turning and patrolling zones in the secondary. With size, outstanding instincts and one of the most physical styles of football for any defensive player in the country, Williams is putting himself in rarified air entering his senior season — much like Kayshon Boutte before him. One college coach compared him to former first-rounder Derwin James.
Alabama has recently taken the lead on the RPM with Williams, who is also considering Texas, Texas A&M, Clemson, Oklahoma, Miami and LSU.
Elsewhere in WAMPville, 2023 EDGE Jacavion Jacobs has emerged and is garnering more and more attention with his first-step quickness and length coming off the end. Memphis offered and Louisiana and Texas Tech are both showing active interest. 2024 On300 DL De'Myrion Johnson landed Alabama and Texas offers this spring, and at 6-foot-3 and 280 pounds is explosive and intriguing coaches with his ability to play inside and shift to play all across the defensive line.
Other newcomers of note include 2025 receiver Davian Jackson, who flashed as a freshman last year and drew comparisons to the aforementioned Boutte. The 6-foot-2, 185-pound sophomore will see action in the backfield and as a receiver. Jaydun Colbert is a newcomer at Westgate. Last season at Youngsville (La.) Southside, Colbert scored five kickoff return touchdowns and is set to compete for time at cornerback. Nebraska became his first Power 5 offer this month. Boutte's little brother Mekhi Boutte also debuted for the football team this spring after continuing to turn heads during track season (11.00 seconds in the 100-meter; 21.6 seconds in the 200-meter).
Destrehan star power in full-effect
The buzz around The Boot this spring included the collection of talent at Destrehan. Defensively, the team is loaded at multiple levels. On300 2024 EDGE Kolaj Cobbins was among the most productive defenders in-state as a sophomore collecting 60 tackles, 12 sacks and eight forced fumbles, and in the process flashing special speed patrolling from sideline to sideline. During the spring game, Cobbins continued to shine with arguably the quickest first step in the state off the edge. The 6-foot-4, 220-pounder is equally as impressive in pursuit of the ball. LSU holds a slight lead on the RPM, but Georgia, Alabama and Texas A&M each offered in the past week and all seem poised to make a run at Cobbins.
Anthony Robinson and Kevin Adams are two pieces in the secondary that are garnering more and more attention this spring. Robinson, a 6-foot-2, 190-pound hybrid safety that can play down in the box, has fantastic speed to the ball and is a sure open-field tackler. He's landed two SEC offers this spring and should add more during camp season. Adams, a 5-foot-11, 170-pound nickel, works back deep at safety for Destrehan and flies around as one of the faster defenders in the state. Adams clocked a 10.7-second 100-meter before suffering a groin injury this spring. Mississippi State has a slight lead on the RPM for the soon-to-be senior.
Jai Eugene Jr. took strides under center as a passer, and also flashed with his ability to navigate in and outside the pocket to extend plays. The three-star legacy athlete has drawn the attention of Group of 5 programs at quarterback, which is certainly viable, and Eugene continues to evolve athletically and could continue to climb Power 5 teams' boards this camp season. Ole Miss currently leads the way on the RPM.
One of his top receivers has been three-star Daniel Blood, who is quietly as sound and reliable a receiver as there in the state without the flash. He should command a lot of defensive attention, opening up opportunities for new On3 profile Makylon Smothers. Smothers, a 6-foot-3, 180-pound 2024 WR, has size, speed and the ability to high-point the football.
2023 OT Christian Martin is the No. 48-rated offensive tackle on On3. We're high on the 6-foot-6, 265-pounder, who has a massive frame and outstanding reach and is light on his feet. Mississippi State has an early offer on the table to Martin and is favored on the RPM, and it's no surprise given how his size and traits resemble recent first-rounder Charles Cross.
St. Aug restocking in the trenches, skill positions
On300 offensive tackle Tyree Adams headlines the growing collection of talent on hand at New Orleans (La.) St. Augustine. Adams, who has his sights set on a handful of SEC West programs as well as Georgia, maybe Batman upfront for Aug; that leaves Troy Smith as Robin. The 6-foot-4, 285-pound interior lineman is drawing looks largely at center and is a borderline Power 5 option with a high motor.
Both Adams and Smith are returners; newcomers of note include On300 ATH Bobby Kennedy, 2024 WR Joshua Jackson and 2024 TE Hubert Caliste Jr. Kennedy impressed playing both sides of the ball in 7-on-7 action earlier this spring. Jackson shined in the St. Aug spring game stretching the field vertically with size and also speed to get past the defense. Caliste, who is making the transition from the basketball court, is the son of former San Diego State defensive back Hubert Caliste, who prepped at New Orleans (La.) Carver.
U-High legacies highlight defense
The defending Division II champs may have lost some star power to the likes of Auburn and other Division I programs, but Baton Rouge (La.) University has legacy talent scattered throughout multiple levels of the defense and some young underclassmen catching eyes in the trenches.
Elite linebacker Jaiden Ausberry is inheriting control of the defense from older brother Austin, now on The Plains. The uber-athletic linebacker is moving very well at 220 pounds and should have an opportunity to create plays from multiple levels of the U-High defense. He's locked in three June official visits to Auburn, Michigan and Notre Dame, and is saving two more for the fall. The in-state Tigers are leading each of those teams on the RPM.
2025 athlete Keylan Moses should compliment Ausberry as a STAR option off the edge. The 6-foot-3, 215-pounder is set to see action on both sides of the ball — as his brother Dylan did once upon a time — and Moses thrived in a hybrid safety/linebacker role during spring practices. He's long, rangy and can fly across the field in a hurry. Other defenders in key spots include 2024 defensive back Tony Burns, younger brother of LSU safety Major Burns. Like his brother, Burns is feisty with his hands, thrives off contact and is very sticky in coverage. His counterpart, fellow 2024 DB Marcus Dawson Jr., is also a physical defender at 6-foot-3 and 190 pounds. His dad played linebacker at Grambling, which offered this spring. Dawson could also grow into a strong safety or linebacker.
Other notable underclassmen include 2025 athlete Alec Hayney, who took snaps at running back and on the defensive line. At 6-foot-3 and 240 pounds, he's bound to make noise as a sophomore this fall. So will 2026 offensive tackle Lamar Brown, who as a freshman checked in at 6-foot-4 and 280 pounds. One Big 12 coach told On3 that they would sign Brown to this current cycle.
Mack, Young shine in spring outings
Wardell Mack's strong offseason continued with a spring game performance in which the top-100 defensive back shined largely on the offensive side of the ball. Mack, a long 6-foot-1, 175-pound cornerback, is dynamic after the catch and has a suddenness to his game. It's also glaring when lined up in the secondary — he's instinctual, seamless out of his breaks and has a nose for the ball. LSU is ahead on the RPM. Mack will return to Baton Rouge and several more SEC campuses this summer.
Elsewhere in the Marrero (La.) John Ehret – New Orleans (La.) Holy Cross spring game, 2024 WR Koby Young emerged as a difference-maker on offense. The 6-foot, 175-pound receiver, who could also see action out of the backfield, is dynamic in space with fantastic change-of-direction and speed to break away from a crowd. Young was part of the Tigers' state title relay squad earlier this spring. Texas Tech, Tulane, Troy and Charlotte have all offered the soon-to-be junior, who is also expected to camp at Alabama this June.
Easton strong up the middle
New Orleans (La.) Warren Easton has turned into a defensive-minded power in recent years as they've made the Class 4A title game part of the routine. This team is strong at all three levels of the defense headlined by three-star defensive lineman Jameian Buxton, three-star linebacker Jirrea Johnson and four-star cornerback Wallace Foster IV.
Buxton, who made the transition to the city after Hurricane Ida hit last August, had a breakout junior campaign and came on strong during Easton's late-season march. At 6-foot-3 and 285 pounds, Buxton is quick inside and continues to establish himself at the point of attack. He should have a chance to bolster his stock camp season. Johnson has garnered more offers this spring and Power 5 teams continue to flirt with offering the sub-6-foot linebacker with range and instincts in the middle of the defense. One may just pull the trigger this summer.
Foster was late to spring after competing in the Louisiana state track championships on the relay squad. The 6-foot, 175-pound corner is coming off a superb sophomore season as a game-breaking defensive back. Foster will see added snaps on offense this fall, giving him a chance to display his speed and playmaking abilities in another element. Fellow relay-team member Frederick Robertson should garner college looks into the season. At 5-foot-9 and 180 pounds, 2024 RB Robertson is not only fast but explosive out of the backfield. Additionally, both of Easton's athletic quarterback options Keddrick Connelly and Greg Donaldson are drawing Florida State interest.
Bax has breakout potential
Jonathan Bax was a force up for New Orleans (La.) Edna Karr in the spring game at Destrehan last week. The nation's No. 65-rated EDGE on On3 is up 15 to 20 lbs and provided some pressure off the edge as a stand-up rusher that could also cover and jolt down the sideline in a hurry. Bax also rushed with his hand in the dirt and generated excellent push and came close on quite a few sacks in this setting. This season, Karr's defense looks primed to steal the show and Bax is a massive reason why. He's a candidate for a breakout senior season, which could begin as he makes the rounds during camp season or when his senior season gets underway. Right now, Tulane leads the RPM over Louisville for Bax.