3 big trips coming up for Missouri 4-star OL Cayden Green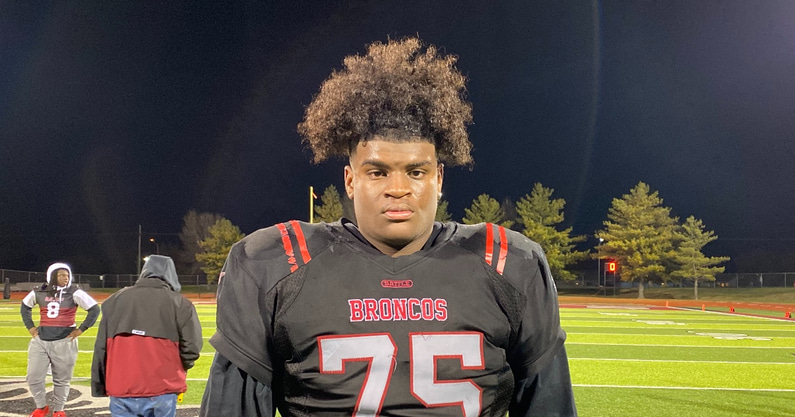 Lee's Summit (Mo.) North four-star offensive tackle Cayden Green plans to take it all in this winter before reducing his list of top teams.
Green, who is 6-foot-6 and 309 pounds, just returned from an impressive unofficial visit to Michigan last weekend. The Wolverines definitely made a big impression on Green, who ranks as the No. 2 junior in the Show Me State.
"It has probably been my favorite place so far," Green told The Wolverine's Tim Verghese on Monday. "Atmosphere was pretty cool. I enjoy coach (Sherrone) Moore a lot. He seems like a very genuine guy. He seems like he coaches hard from what I heard, but you could tell it's out of love. And then coach (Jim) Harbaugh, I enjoyed him."
Green said he got a lot of "one-on-one" time with Moore and coach Grant Newsome. And he feels like the Wolverines are in his "top three" and a return visit will be in the works.
Cayden Green ready for more visits
But so far other trips.
"This weekend we will take an unofficial visit to Cincinnati with my teammate (cornerback) Jamir Conn," Green said. "The following weekend we will go to the Junior Day at Alabama."
The interest from Cincinnati, one of the top teams in college football this season, is relatively new for Green. And so is the interest from Alabama.
In fact, Alabama director of personal operations Sam Petitto was on campus Tuesday at Lee's Summit North. Nebraska assistant Bill Bush and Baylor assistant Eric Mateos were also there on Tuesday.
Green hasn't officially, officially tipped his hand yet for his top schools, but it's believed that Oklahoma, Iowa, Missouri and Michigan will definitely be in the top group. It will also be interesting to see what happens with Alabama, especially if the visit in two weeks goes well and the Crimson Tide steps up its pursuit.
Green was a major focus of Lincoln Riley's staff when he was at Oklahoma, and Brent Venables' staff is also working to make it clear he's a priority. He'll be in Norman again on March 5.
"I talk to coach B (Bill Bedenbaugh) probably the most of any offensive line coach other than coach Mateos and coach Moore from Michigan," Green said. "I've also talked with coach Venables, and he's a cool guy, too."
Iowa has done a great job in Kansas City over the past few years, and Green has been on campus twice already.
Missouri is home to close friend and teammate Armand Membou, who just signed with the Tigers in December. Plus, coach Eli Drinkwitz has made Lee's Summit North a priority school to target. Drinkwitz showed up on the first day of the contact period at Lee's Summit North in a dump truck.
"It was very interesting," Green said about the dump truck visit. "And very unique. I had never seen anything like it before."
Green ranks as the No. 65 player in the country, according to the On3 Consensus, a complete and equally weighted industry-generated average that utilizes all four major recruiting media companies. He also is the third-ranked offensive tackle in the country.