2021 College Football Playoff: Final top-four revealed, CFP field is set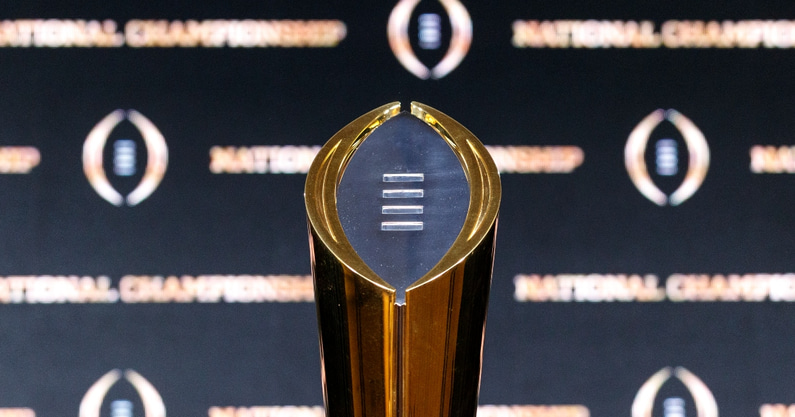 The College Football Playoff top four has officially been set. Following conference championship weekend, the committee has gathered and came to a final decision on which four teams will be playing for a national championship this season. The results from the weekend resulted in some major changes in the final College Football Playoff rankings.
Final College Football Playoff top four
1. Alabama Crimson Tide (12-1, SEC Champion)
Alabama was a rare underdog on Saturday in the SEC Championship Game against Georgia, but it didn't matter. Georgia's dominant defense was not able to contain Alabama quarterback Bryce Young, who threw for 421 yards and had four total touchdowns in the 41-24 victory. Alabama scored as many points in the second quarter, 24, as Georgia was able to score in the entire game. The Crimson Tide proved two things on Saturday: Georgia is beatable, and nobody should ever bet against Nick Saban and Alabama.
2. Michigan Wolverines (12-1, Big Ten Champion)
Michigan making it into the College Football Playoff top four is a notable accomplishment. The Wolverines become the first team in the playoff era to make the College Football Playoff after beginning the season as an unranked team. Things were looking bleak for Michigan after a late-season loss to Michigan State, but things turned around quickly. Michigan defeated Ohio State 42-27 in the final week of the regular season to clinch a spot in the Big Ten title game. Against Iowa, Michigan dominated in every way possible, coming away with a convincing 42-3 victory to clinch a Big Ten title and solidify its spot in the College Football Playoff top four.
3. Georgia Bulldogs (12-1, SEC Runner-up)
Georgia came into conference championship weekend looking unbeatable. The Bulldogs had blown out every team that they faced. Georgia's closest game of the season was Week 1 against Clemson. But Alabama was Georgia's toughest test of the season, by a wide margin, and Alabama was able to roll by the Bulldogs. Prior to the loss, Georgia hadn't given up more than 17 points in a game all season. But Alabama cruised to a 41-24 victory. Georgia sat atop the rankings for the majority of the season and remain in the College Football Playoff top four, just not in the same slot that they were hoping for.
4. Cincinnati Bearcats (13-0, AAC Champion)
Cincinnati is the lone remaining undefeated team in college football. The Bearcats improved to 13-0 on Saturday with a 35-20 win over Houston in the AAC Championship game. Cincinnati has also become the first Group of Five team to ever make the College Football Playoff top four. All season long there was debate on whether or not Cincinnati's resume would be impressive enough to make it in. After picking up a win over Houston, who entered the weekend ranked No. 21, the committee ultimately decided that the Bearcats deserved a shot.