2022 NCAA Tournament bracket revealed on Selection Sunday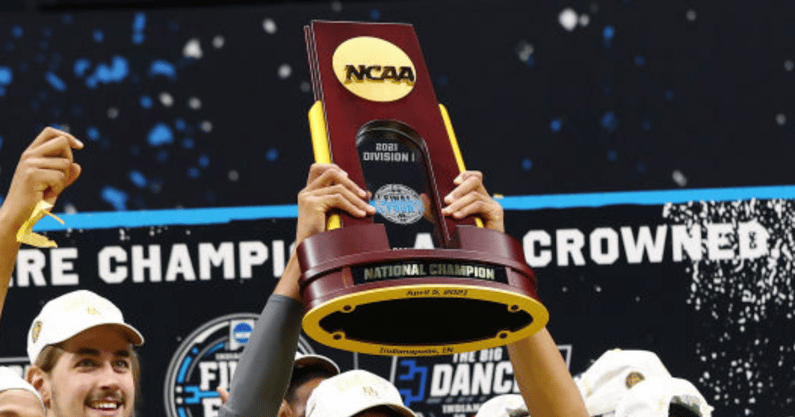 Following more than a week of conference tournaments across the country, the 2022 NCAA Tournament selection committee revealed the official bracket on CBS' Selection Sunday show. The 68-team field of automatic qualifiers and at-large bids combine across four regions as March Madness approaches.
Gonzaga claims the No. 1 overall seed after winning the WCC championship, beating out Power Five conference champions Arizona and Kansas, among others. Other blue-blood programs like Duke, Kentucky and UCLA did not lift a trophy last week but still felt confident in their seeding.
Defending champion Baylor returns as a 1-seed with SEC contenders Auburn and Tennessee also claiming high seeds after impressive seasons. A handful of others, including Michigan and Indiana had to wait until Selection Sunday to learn their fate on the bubble.
See where each team landed in the 2022 NCAA Tournament bracket and which matchups could present an early upset opportunity.
2022 NCAA Tournament bracket
West Region (San Francisco)
1. Gonzaga vs. 16. Georgia State (Portland, OR)
8. Boise State vs. 9. Memphis (Portland, OR)
5. UConn vs. 12. New Mexico State (Buffalo, NY)
4. Arkansas vs. 13. Vermont (Buffalo, NY)
6. Alabama vs. 11. Rutgers/Notre Dame (San Diego, CA)
3. Texas Tech vs. 14. Montana State (San Diego, CA)
7. Michigan State vs. 10. Davidson (Greenville, SC)
2. Duke vs. 15. Cal State Fullerton (Greenville, SC)
South Region (San Antonio)
1. Arizona vs. 16. Wright State/Bryant (San Diego, CA)
8. Seton Hall vs. 9. TCU (San Diego, CA)
5. Houston vs. 12. UAB (Pittsburgh, PA)
4. Illinois vs. 13. Chattanooga (Pittsburgh, PA)
6. Colorado State vs. 11. Michigan (Indianapolis, IN)
3. Tennessee vs. 14. Longwood (Indianapolis, IN)
7. Ohio State vs. 10. Loyola Chicago (Pittsburgh, PA)
2. Villanova vs. 15. Delaware (Pittsburgh, PA)
Midwest Region (Chicago)
1. Kansas vs. 16. Texas Southern/Texas A&M-CC (Fort Worth, TX)
8. San Diego State vs. 9. Creighton (Forth Worth, TX)
5. Iowa vs. 12. Richmond (Buffalo, NY)
4. Providence vs. 13. South Dakota State (Buffalo, NY)
6. LSU vs. 11. Iowa State (Milwaukee, WI)
3. Wisconsin vs. 14. Colgate (Milwaukee, WI)
7. USC vs. 10. Miami (FL) (Greenville, SC)
2. Auburn vs. 15. Jacksonville State (Greenville, SC)
East Region (Philadelphia)
1. Baylor vs. 16. Norfolk State (Fort Worth, TX)
8. North Carolina vs. 9. Marquette (Fort Worth, TX)
5. St. Mary's vs. 12. Wyoming/Indiana (Portland, OR)
4. UCLA vs. 13. Akron (Portland, OR)
6. Texas vs. 11. Virginia Tech (Milwaukee, WI)
3. Purdue vs. 14. Yale (Milwaukee, WI)
7. Murray State vs. 10. San Francisco (Indianapolis, IN)
2. Kentucky vs. 15. St. Peter's (Indianapolis, IN)