2024 PG Elliot Cadeau talks dream school, NIL, & giving back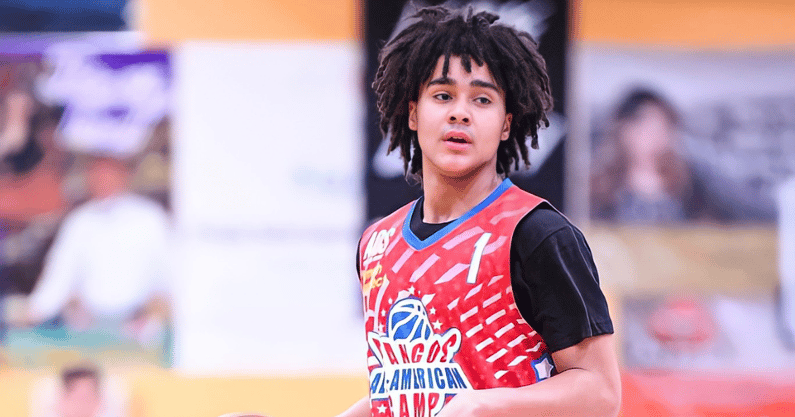 Elliot Cadeau is different than most sophomores in high school. Besides establishing himself as one of the top point guards in his class, Cadeau has signed with Roc Nation Sports for NIL representation and hosted a free basketball camp for underprivileged kids in his community.
We have a lot to cover so let's start with the 17-year old's free basketball camp he hosted earlier this year.
Cadeau Cares
Most basketball players give back to their community once they've made it to the pros, however, Cadeau is starting early.
In early January, Cadeau (along with the help of his mother) hosted a free basketball camp for the students of Washington Elementary, located in West Orange, New Jersey.
"What inspired that was, I used to be that same kid, right in their footsteps," Cadeau explained. "We targeted kids in my area, where there are a lot of minority kids. We rented out a place right next to that area so everybody could walk, and it was totally free. I just wanted to give back. It was really successful. All the kids had fun, and I had fun too."
Giving back is something we can all admire and appreciate, especially from someone who's still just an underclassman in high school.
It's apparent Elliot Cadeau is making big moves off the court as well, and giving back to his community is already paying off.
Cadeau signs with Roc Nation Sports
On New Years Day, Cadeau became the first (and only) high school basketball player to sign with Roc Nation Sports for NIL representation. Founded by JAY-Z in 2013, Roc Nation represents NBA players such as LaMelo and LiAngelo Ball, Kevin Porter Jr., Danny Green, Isaiah Stewart, and others.
Cadeau says the plan is to also be represented by Roc Nation even once he enters college and beyond. The New Jersey native has announced a partnership with Wilson and says a deal with a clothing company is coming soon.
"A lot of agents were texting me, especially after playing with the Swedish U18 national team," said Cadeau. "But a lot of agents reached out and we thought Roc Nation was the best fit so we signed with them."
Born to immigrant parents, Cadeau's mother is from Sweden, his father from Haiti. He chose to play for the Swedish national team over USA, despite growing up in America.
"I want to do something unusual and play for Sweden," Cadeau said in an interview with SVT Sport. "Because no one else from the USA goes to Sweden and plays for the national team. I'm different."
Cadeau went on to win the U18 Nordic Championship Cup, and returned home with a gold medal.
The recruiting process is just beginning
Considering Cadeau is only a sophomore, the recruiting process has only just started. He's already picked up offers from the likes of Oklahoma State, Providence, Seton Hall, St. John's, Syracuse, TCU, Tennessee, Texas Tech, among others.
However, Cadeau did grow up a fan of one school in particular, even calling it his dream school – Texas Tech.
Cadeau grew up in NJ, nearly 2,000 miles away from Lubbock, so what is it about the Red Raiders that stood out?
"When I was a kid, my AAU coach and all the people around me were really big on defense and that's something I took pride in," Cadeau explained. "When I was young, I used to never shoot the ball. I would just be a passing point guard that plays a lot of defense. Texas Tech caught my eye because when I was younger they had the number one defense in the country. They were just the team I fell in love with watching when I was younger. No other team really caught my eye, except for them. I was a really big fan of them."
As you might imagine, it must've been pretty surreal once Cadeau received an offer from his dream school.
"It was crazy. I was with my mom when it happened and we were both really shocked and it was crazy how that used to be my dream school and now I have the opportunity to go there for free. So it was a big deal for us."
College visits in the works?
Caduea has yet to take a college visit, but says he'd like to see Texas Tech and Tennessee this summer. He's also open to seeing other schoools as well.
What does he like about Tennessee?
"I like their playstyle," Cadeau said. "They play really fast and shoot a lot of threes. It reminds me of the playstyle I have here at Bergen Catholic, my high school. We run a lot of their plays actually and I feel like I would really fit in with their offense. Watching Kennedy Chandler, I think I sort of play like him and his game reminds me of me. So I think if he can stand out there, I could too."
The Kentucky Wildcats are also interested in Cadeau, but have not yet made the offer. The 6-foot-1 point guard gave his thoughts on what it's like to be recruited by Kentucky.
"I think its really good and I think its really crazy," he said. "When I was younger, I never thought I'd have Kentucky come to my high school to watch me practice. So I'm really proud of myself and its really great."
It's still early, but which schools is Cadeau hear from the most?
"I'm hearing a lot from Syracuse. Texas Tech a lot too. Tennessee also, Seton Hall. We also recently heard from Ohio State this past week."
Cadeau's thoughts on the pro route
Cadeau is no where near making a decision, but he does have a stance on the pro versus college route.
"I feel like it's a really good route for certain people, but I have a higher interest in going to college as of right now," he says. "But I'll still be interested in going pro straight out of high school but I feel like I have a higher interest in going to college right now."
With that being said, what is he looking for in a college?
"Somewhere that makes me their priority, like somewhere that really wants me to be there. I don't to be just be an option at a college, I want to be the number one option. I'm looking for development as well because once you get to that level, you have to continue to get better because you're not only competing against college players, but also NBA players because that's where you're trying to get to. So development is a big thing for me, and a good coach."