2025 4-star S Faheem Delane breaks down top schools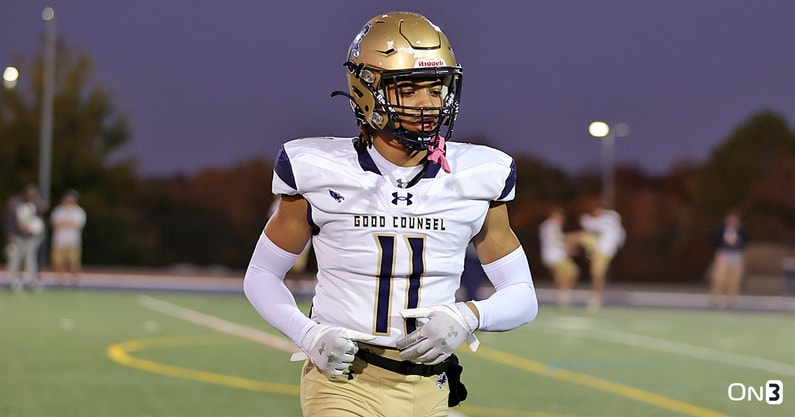 Around two dozen schools have offered Faheem Delane. The four-star safety is the No. 18 prospect in the 2025 On3 Consensus. It may seem a little early for a prospect on the back end of his sophomore year to name favorites, but Delane feels the time is right.
"Some schools have been recruiting me since I was in 7th grade," Delane told On3. "I got a lot of bigger offers early, so I have taken visits, met a lot of coaches and I feel I am ready to cut my list down. I don't want to lead schools on and I am ready to focus on the schools I could see myself at moving forward."
The No. 4 safety in the country lists Alabama, Florida, Florida State, LSU, Maryland, Ohio State, Oregon, Penn State, South Carolina, USC, and Virginia Tech as his top schools.
Delane only visited Maryland in January. During the season, the rising junior out of Olney (Md.) Good Counsel took in games at Maryland, Ohio State, Penn State and Virginia Tech. He plans to be active on the road in the coming months.
"I will be traveling as much as I can in March and April. On March 25th, I will be visiting Ohio State. I want to get out and visit Florida and Florida State for the first time soon too. There is nothing locked in for April yet, but I will be back at Virginia Tech and I am looking to visit Alabama."
Other schools may get Delane on campus this spring, but those visits are set. Those trips could lead to an early decision.
"I could commit this summer," Delane said. "It depends on how I feel after taking this next round of visits. At the schools on my list, I feel I fit into the scheme and I have good connections with coaches. How I feel on campus will be a factor for me.
"After the visits I listed, I will circle back to get back to schools I have already been to one more time to see how I feel. I got out on visits early, so I am a little ahead. If I feel good about a school after these visits in the spring and summer, then I could make an early decision."
Delane breaks down his top schools
ALABAMA: "It is Alabama. As long as Nick Saban is there, Alabama will always be Alabama. He is a defensive coach, he is heavy into defensive backs and I like what he and T-Rob (Travaris Robinson) are doing. T-Rob has a great personality."
FLORIDA: "Florida has always had a defensive back culture. It is a strong SEC school, the weather is great and now I just need to visit. I have been talking with Mike Peterson a lot."
FLORIDA STATE: "Florida State is similar to Florida. I will be visiting soon and I like their history with defensive backs. I grew up watching Jalen Ramsey, Derwin James and other great defensive backs that played there. Patrick Surtain played in the NFL, he has some defensive back history and I will be down there soon."
LSU: There is a long list of great defensive backs that have played at LSU. Grant Delpit, Jamal Adams, Tyrann Mathieu and the list goes on. I like the direction Brian Kelly has the program going in and I have been in contact with them a lot."
MARYLAND: "Maryland is the hometown school for me. I always feel the Maryland love. The fans are grat, they have been recruiting me since the 7th grade and the coaches really know me well."
OHIO STATE: "Ohio State has it all. The have the history, they have a tradition with defensive backs, they win and they have great fans. It may sound funny, but I love their jerseys too. They just have it all. I was there last spring and Perry Eliano broke it all down to me. I think he could teach me a lot and I like him and Ryan Day."
OREGON: "It meant a lot to have Dan Lanning come by the school to check on me. He is the coach that offered me and that stood out a lot. I grew up watching Oregon and I know they have produced guys. They had the uniforms, they have had some great players and it is a school I have been watching."
PENN STATE: "Penn State has been recruiting me about as long as Maryland. Since I was a freshman, they have been showing me a lot of interest. I like the defense Manny Diaz runs, coach Poindexter is a great guy and James Franklin is very genuine. Penn State has good people that I have strong connections with and I love their fans too."
SOUTH CAROLINA: "Coach Torrian Gray, the defensive backs coach has produced so much talent to the league. South Carolina is traditionally also a good defensive back school, so they play very physical and I like that."
USC: "I like where Lincoln Riley is aiming to take the USC program. They have great weather and the atmosphere is excellent too. They also have Calen Bullock, one of the top safeties in the country."
VIRGINIA TECH: "There is not too much to say about Virginia Tech. My brother goes there, it feels like family for me there and I love all of the coaches. Brent Pry is doing a great job with the culture and he and the staff show me a lot of love."