'24 Drake Powell EXPLODED this weekend; "It was pretty cool they offered me"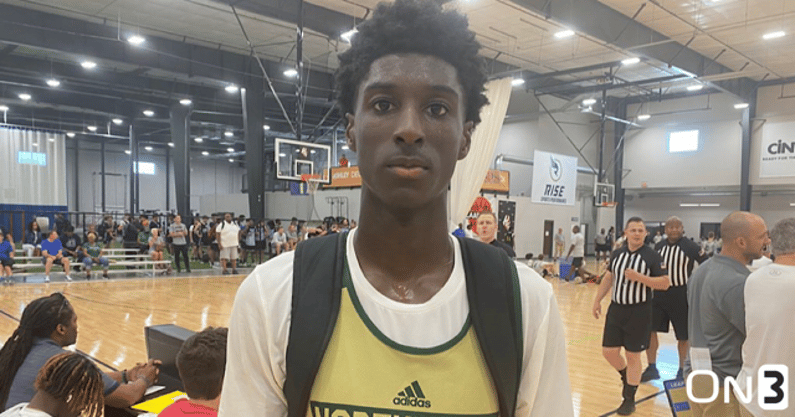 Drake Powell was one of the June Live Period's biggest stock risers. The 6-foot-5 guard from Pittsboro (NC) Northwood High averaged 16.1 points, 6.2 rebounds, 3.2 assists, and 2.6 steals per game for his 24-4 team.
"I've been working on my offensive game every morning," Powell told On3. "I'm watching a lot of Jrue Holiday, he is a defensive-minded player, but he has an underrated offensive bag. He handles the ball and his passing ability."
This weekend, high major programs lined the courts to watch the 2024 prospect. He picked up numerous offers and has emerged on the national radar. On3 caught up with Drake Powell at the NCHSAA June Scholastic Live Event to talk about those schools and possible upcoming visits.
"I picked up three offers on June 15, Virginia Tech, Texas A&M, and Miami," Powell said. "My parents told me they were proud of me, which is what every kid wants to hear. I think I want to take official visits to Texas A&M and Miami. I hear from NC State a lot too."
Powell talks recruiting
Virginia Tech: "It was pretty cool they offered me. My sister plays volleyball there, so I know the campus. I've watched her play volleyball a lot, and I am excited to learn more about their basketball program."
Miami: "I hadn't watched many of their games, only when they played North Carolina. But I did see they space the floor a lot. They like my defensive ability, and they like versatile wings. They are in the Sunshine State, the campus in my head will be beautiful, and I want to see it."
Texas A&M: "They're in the SEC, which is a big conference, and they produce a lot of talented players. They like my versatility that I can handle and score it from the wing. Texas is a big state, and I feel like their fans will really be into it."
NC State: "I hear from them a good bit. Coach (Kevin) Keatts is a great guy, and I saw he was here watching me for my first game. That means a lot; it shows me he thinks I fit great in his program."
"I think North Carolina and possibly Florida State could be close to offering me," Powell said.
Recruiting take
"Growing up, North Carolina was a dream school for me because I went to a lot of their games," Powell said. "But as I got into this recruiting process, my dream turned into playing basketball in college. It would be cool if they offered, but I am open and listening to every school.
"I will be looking for a program where I can call home, where I can be myself. The location won't matter, but I'm looking for a family-like atmosphere. Trust will be big, and coaches I have a real relationship with."