'24 Jarin Stevenson has ACC schools prioritizing him early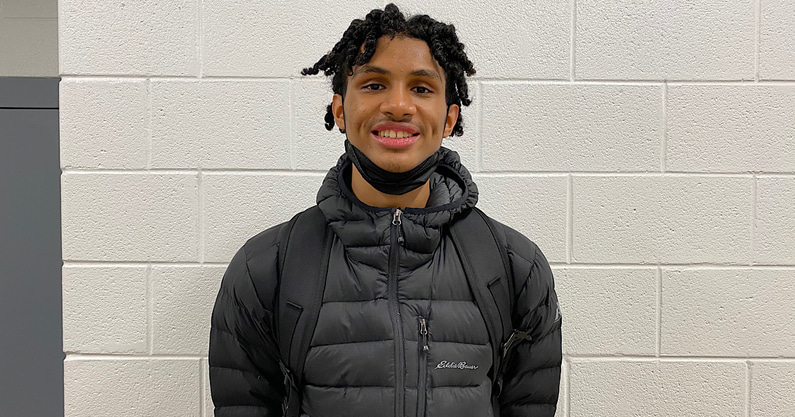 Jarin Stevenson is trending as one of the top power forwards in the 2024 class. The Pittsboro (NC) Seaforth High sophomore averaged 20.6 points, 11. 3 rebounds and 3.5 points per game this season.
"I've been working a lot on my ball-handling and my shooting," Stevenson told On3. "I'm trying to push my game out to the wing and become more versatile; I don't want to become predictable on the block."
The father of the 6-foot-9 prospect played at Richmond and his mother at North Carolina. They are also both his high school coaches.
"My parents both played basketball, so I have picked up a lot from them," Stevenson said. "They have coached me my whole life. My dad was a shooter (*editor – Jarod Stevenson scored 1,400 career points at Richmond where he was a career 39-percent three-point shooter), so he has been working with me a lot."
On3 caught up with Jarin Stevenson at Big Shots Tip-Off to discuss the current state of his recruitment. 
"I have offers from UNC, Virginia, NC State, and Wake Forest. I have visited each of them except for Wake."
Stevenson talks recruitment
UNC: "They are great people over there. Whenever I talk to them, they are very friendly. I love their facilities. It is a blessing to be recruited by UNC. I watched them all growing up, so I am familiar with them, but I am definitely wide open to everyone. There are a lot of greats, a lot of NBA players who came out of there."
Virginia: "I think I fit their system well. I like playing defense and think it is an important part of the game. I love their five pillars. They really stuck with me. Those are so important, and I stand by those same values in my life."
Wake Forest: "I haven't been there yet, but they have had a good season. I am looking to go soon."
NC State: "They have a great facility there in Raleigh. I really liked it. When I met Coach (Kevin) Keatts, he was very cool. He seemed to be really excited about me visiting and considering going there. I've been to a practice and a game there. I like how hard they work, and I expect to go to a school where they make me work and get better." 
"I'm hearing from Cincinnati, Florida State, Notre Dame, and Indiana, but they haven't offered me yet," Stevenson said. 
Stevenson's take
"I will be looking at the community of the team and the program," Stevenson said. "How welcoming they are and how much the coaches and players will push me to get better."
On3's take
Jarin Stevenson comes from a basketball family. His mother played at North Carolina, and his father was a 1,400 point scorer at Richmond before playing professionally overseas for ten-plus years. Stevenson is skilled; with good size, he can push the break or shoot the three. While he is still growing into his frame and athleticism, he has good wiggle and excellent hand-eye coordination. He is a good athlete, and he has a natural nose for the ball. Stevenson can take over games; the next step in his progression will be consistently doing it every quarter, every night.