4-star 2023 EDGE Chandavian Bradley 'loved energy' at Wisconsin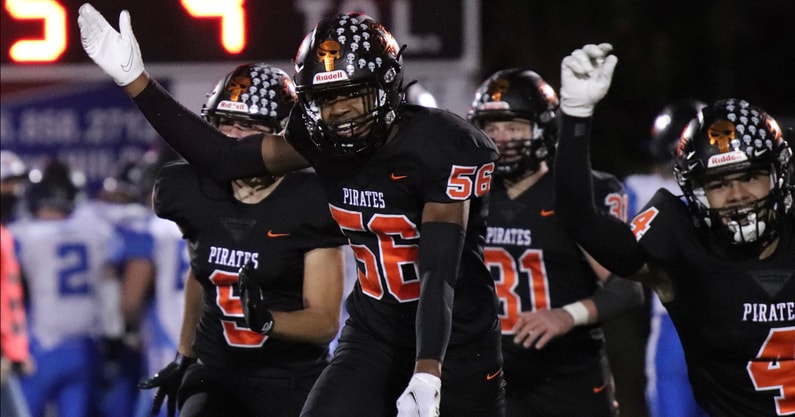 Platte City (Mo.) Platte County junior EDGE Chandavian Bradley was in Madison, Wisc., on Saturday to watch Wisconsin host Penn State in one of the marquee games of the weekend.
For Bradley – the No. 40 player in the 2023 rankings from On3 – it was a great opportunity to see two teams that have offered him up close and in person. Bradley enjoyed every single second of the visit.
"I loved the energy they had out there," Bradley, who is 6-foot-6 and 210 pounds, said. "The student section was amazing. The atmosphere of both teams was amazing."
Badgers, Nittany Lions impress Chandavian Bradley
In the past Chandavian Bradley mentioned Notre Dame and Oklahoma as two schools he really is high on. But the Badgers and Nittany Lions made a big impression on him. Both schools offered him in early August.
"I was definitely impressed by both teams outside linebackers," Bradley said. "They seem to have a playing style similar to mine. And I know how good both teams are at developing them."
Bradley says he's in no rush to make a college decision. He hopes to soak up the atmosphere at other college games throughout his junior season.
His next visit will be to Ames, Iowa, to watch rivals Iowa and Iowa State battle. It should be an electric atmosphere with ESPN's College GameDay in attendance. That's something Bradley is excited about.
"It's going to be fire," he said.
Since college coaches have been able to contact junior prospects, Bradley said he's heard from Iowa State, KU, K-State, OU, Notre Dame, USC, Arkansas, Michigan State, Mizzou, Michigan, Alabama, Texas A&M, Tennessee, Middle Tennessee, Memphis, Kentucky, Colorado, Ohio State, Oregon, Louisville, Northwestern, Nebraska, Wisconsin, Penn State, Florida State, Indiana and Minnesota.
Bradley also shared a new highlight video from his game this past Friday night. Platte County beat Kearney 35-3. Bradley said he had a much better performance than he did in Week 1.