4-star Annor Boeteng updates his recruitment, talks visits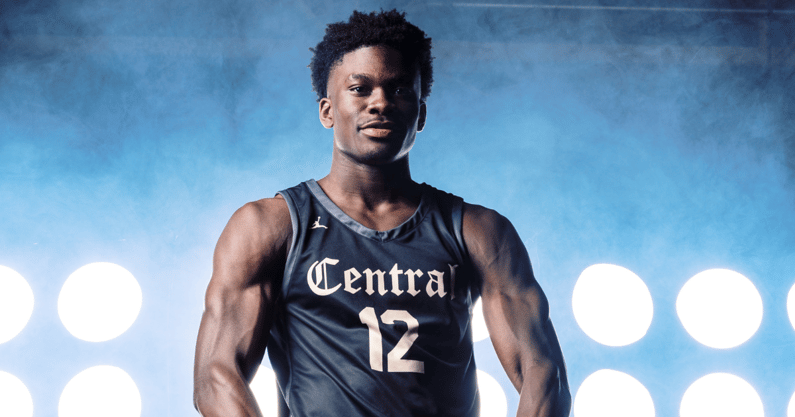 Annor Boateng is the 2024 On3 Consensus No. 26 overall player.
The On3 Consensus is the average ranking from all four major recruiting media companies. On3's evaluators are even higher on him, ranking him 16th overall in the class.
Only a junior, the 6-foot-5, 205-pound shooting guard out of Little Rock (Ark.) Central is just getting the recruitment process started. He holds early offers from Arkansas, Auburn, LSU, Missouri, Oklahoma State, Texas A&M, Memphis, Ole Miss, and others. Find his full list of offers here.
Boateng averaged 19.4 points per game over the summer with the Arkansas Hawks program on the Adidas 3SSB 16U Circuit.
He recently caught up with On3 to talk his game and update the early stages of his recruitment.
Boateng describes his game
"I would describe myself as an inside-out player," Boateng said to On3. "I get going on the inside then take it outside to continue scoring. I'd say I model my game after Anthony Edwards. I just have to keep working on my shot and get it more consistent."
Schools reaching out the most
"I've been hearing from Missouri, Auburn, Ole Miss, Arkansas, and Oklahoma State the most recently," Boateng said.
Boateng talks college visits
So far, Boateng has taken three college visits, all unofficials — Oklahoma State, Arkansas, and TCU. He broke down each visit.
Oklahoma State: "The OSU campus is very convenient, everything is close. Everything you need is only a few steps away to keep you locked in. It's not a big city either so you don't have to worry about distractions outside of college bothering you."
Arkansas: "Arkansas has a great facility and their practices are very organized and fast-paced. I also got to see their student-athlete center which has many tutors to help the athletes with work which is great to have to avoid distractions."
TCU: "TCU has a really good-looking campus. I wasn't able to see some of the other facilities apart from the main basketball facilities. Everything was also very close to each other and easy to reach. The staff is very energetic and welcoming as well."
Boateng also mentioned he's been to Memphis and Auburn for team camps. He added he would like to return to each of the campuses for a "real tour and run down of the college."
Future visits?
Boateng has future visits planned to Missouri and LSU, as well as potentially a visit to Ole Miss. No dates have been scheduled yet.
Dream School?
Boateng says "I didn't really have a dream school but I enjoyed watching Villanova, Duke, North Carolina, and Purdue growing up. Their games were always exciting."
What's Boateng looking for in a college?
Although Boateng is only a junior, he already knows what he's looking for in a college program.
"A school I can fit in and thrive," he says. "Where I can be the best person on and off the court and develop relationships beyond basketball with the coaches and players. I also want a college with a good academic foundation because eventually the ball stops bouncing and I need something to lean back on whenever that happens."
Scouting Summary
"Annor Boateng has a naturally strong frame with good length and athleticism," On3's Jamie Shaw wrote. "He has the upside to be a high-level defender and even shows flashes of that now, with his great effort and ability to move his feet or get into the passing lanes. Boateng shows flashes on offense, being able to create from the wing. His handle is confident in the half-court, and he can get downhill, into the mid-range, or to the rim off the bounce. The jump shot is inconsistent but not broken. He does a lot of things on the court that affects winning at the highest level."