4-star Carey Booth discusses visits to Penn State, Marquette; future trips to USC, Florida, Ohio State?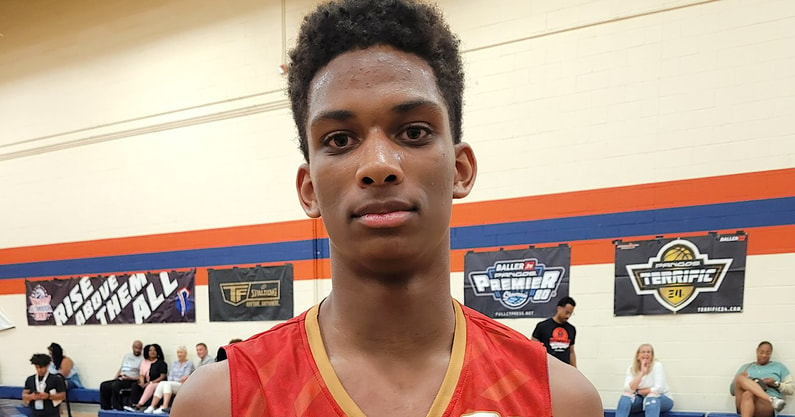 Carey Booth came in at No. 80 in On3's 2023 update. The 6-foot-9 forward has experienced a huge blow-up on the UAA Circuit with the KC Run GMC program.
"I bring the energy when I'm on the floor," Booth told On3. "I protect the rim, block shots. A lot of people talk about my shooting; I can stretch the floor. I've always had the skills and the talent; I just had another level to put it all together. My confidence has really played a big part. I watch a lot of Evan Mobley and the energy he gives on defense."
While it happened quickly, programs are prioritizing the Englewood (CO) Cherry Creek High big. On3 caught up with Carey Booth recently to talk about visits and time frames.
I went on a visit to Penn State and then Marquette," Booth said. "When I go out to NBPA Top 100 Camp, I think I will take an official visit to Florida."
Booth talks visits
Penn State: "I think Micah Shrewsberry is one of the best coaches in college basketball right now. He's a really strong offensive mind, and he pays attention to defense too. I think he is going to do something very special at Penn State. They see me as a four, someone who can play defense and stretch the floor. I think my talent could be showcased if I went there. One thing that stood out about Shrewsberry is that Penn State's basketball tradition isn't very good, but you can tell he really wants to win. He wants to change things there."
Marquette: "After the first live period, coach (Shaka) Smart came to my school and sat down with me and my parents there. That showed me a lot. He showed me what he did at Texas with the players who kind of looked like me while he was there. He's coached a lot of guys with similar games, and that has me intrigued."
Florida: "Florida offered here recently. I know they won two national championships back with Al Horford and Joakim Noah. I feel they could really help my game, and I could learn a lot of good things there from coach (Todd) Golden."
…other programs
"All the schools who have offered me are recruiting me pretty equally and heavily right now," Booth said. "USC, Ohio State, I haven't made a decision really of narrowing it down. All the schools are recruiting me."
Ohio State: "Coach Jack Owens is the one who is recruiting me. They offered me close to a month ago; they want to get me on a zoom call and show me how I fit in with what they do. I am still learning a lot about the school. I find them interestest as well, and they're in the Big 10."
Southern Cal: "They offered a few weeks ago. They had Evan Mobley and Isaiah Mobley, both very versatile players who have similar bodies to me. They have a history of winning in the PAC-12, and I would want to continue that."
Booth's take
"Originally, I said I wanted to narrow things down and commit by the Fall," Carey Booth said. "But the Fall is super close, and all this new stuff is happening. So maybe it could go until the spring. We'll just have to see how far it goes.
"I have eight visits left, three junior years, and then my five senior years. I'll be looking closely at the school's facilities and how they plan to get me better. I want to see if the coach really knows what he is talking about, like if he really knows the game and wants to win.