4-star EDGE DD Holmes now focused on six schools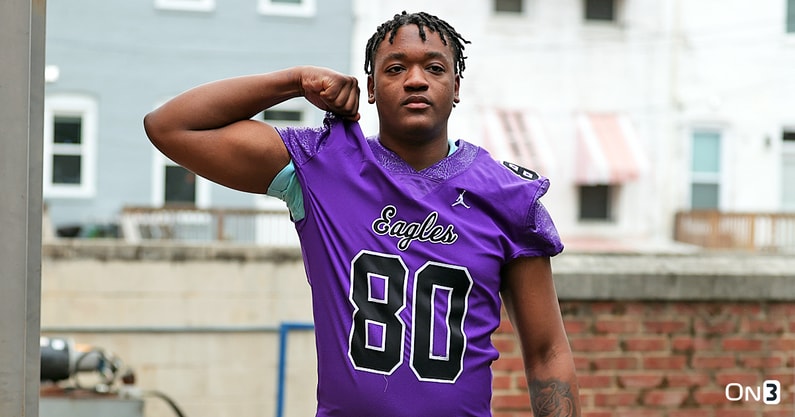 Over 30 schools have offered DD Holmes. The 6-foot-6, 240-pound four-star EDGE out of Washington, D.C. Gonzaga has taken a few visits, established numerous relationships and he is ready to take the next step with his recruitment.
Holmes has trimmed his list to six schools and those are Florida, Florida State, Maryland, Michigan, Rutgers and South Carolina. He has visited all but Florida and Michigan once and official visits are being lined up.
"I am planning to take official visits to each school, then commit by the end of the summer," Holmes told On3. "If things work out and go as planned, I will be committed to one of these six schools before the start of my senior season."
The No. 292 prospect in the On3 Industry Ranking is big on relationships. Not only the relationship with him but with someone close to him. That was a big part of how this list came together.
"The way coaches from these schools have engaged and communicated with me and my mom. They have been talking with me, getting to know me and getting to know her. They have made her feel comfortable and that is important. Based on talking with the coaches and a few visits, these schools are places I feel I could consider a home in the future."
Holmes said there is no order to his top six and all six have an equal shot at landing him.
Official visits will play a big role in Holmes' decision
He has spent one day on the Maryland campus. Rutgers had him Holmes there for a day as well. Florida State and South Carolina had the No. 2 prospect in Washington, D.C. on their campus for a couple of days, but he still has a lot to see.
"The family aspect is so important to me," Holmes said. "I need to get to all of these places, see more of the places I have been and really see which is the best for me. All six schools have good football, that is not a question. I know the educations are good at each too.
"I want to be around the coaches, meet other commitments or recruits that may go there and see if they are the people I like being around. That is what it will come down to. Is the place good for me and will it help me develop is what it will come down to."
Holmes highlights what he likes about each school
FLORIDA: "They have been in constant communication. Florida has really expressed how much they value me as a person and player. They really talk to me as a person and that means a lot. Coach Mike Peterson has really done a great job."
FSU: "The success history at Florida State stands out to me. Then it is their culture. They really strive to be the best and will continue to be strong. Coach Mike Norvell is a big part of my interest too. I watched practice and I love how he interacts and pushes his guys. He is very involved for a head coach and that is attractive in my eyes."
MARYLAND: "Being close to home did factor into Maryland being on my list, but coach Brian Williams has shown a lot of love. Coach Mike Locksley has too. He is from the DMV, he is a great head coach, we have a good connection and he is very personable. With coach Locksley, I can have a regular conversations. That is different."
MICHIGAN: "Things have really picked back up with Michigan. They were on me heavy on early, then it slowed down some and they have come back in recently. Over the last month, Michigan has jumped back in with fire. They got me and my mom on a Zoom call to inform us about academics and that was big. Michigan is a big brand of football too. Coach Mike Elston has been talking to me a lot."
RUTGERS: Coach Marquise Watson has been showing love since the day he offered. It has been non-stop with him. Coach Greg Schiano has too. The consistency with Watson goes back to my sophomore year and that has put Rutgers on the list. Rutgers was one of my first offers and nothing has changed with them."
SOUTH CAROLINA: "Coach Sterling Lucas has a great connection with me and my mom. From prior to the visit to the visit to after the visit, the relationship is just strong. Me and my mom like coach Lucas a lot. Then you have a lot of guys from my are going to play at South Carolina. It would be great to have that type of connection with players on the next level. Getting a lot of players from the DMV could make South Carolina deadly."