4-star Jordan Butler has five official visits in mind; says South Carolina and Auburn are recruiting the hardest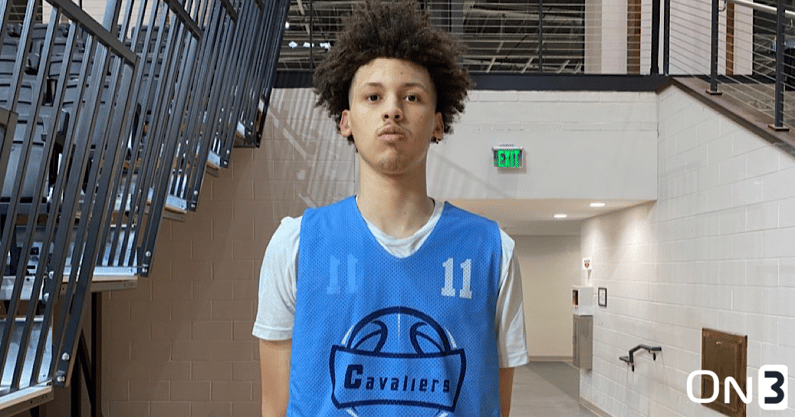 Jordan Butler is On3's No. 40 player in the updated 2023 rankings. The 6-foot-10 forward is in the middle of a breakout Spring, right in line with his brother, John Butler, Jr., declaring for the draft as a one-and-done player.
"The main for me is defense and rebounding," Butler told On3. "My shot is becoming very consistent, and I am moving my feet well, switching and guarding."
The younger Butler averaged 14.5 points, 8.0 rebounds, and 3.8 blocks per game his sophomore season at Greenville (SC) Christ Church. On3 caught up with Jordan Butler recently to discuss his recruitment and possible upcoming visits.
"My most recent off was Missouri a couple of weeks ago," Butler said. "We just got back from Auburn this weekend for team camp, and I took an unofficial visit. I visited South Carolina unofficially this weekend too. I took one junior year visit to Auburn in December. I'm looking to set Fall official visits with Missouri, South Carolina, Auburn, Georgia Tech, and Florida State."
Butler talks recruitment
Auburn: "It was good down there, seeing Coach (Bruce) Pearl and the staff. I have been there before, so it was good to see it all again. They treat me really well. The gym isn't very big, but it gets really loud in there. Seeing how they used Jabari Smith and Walker Kessler last year, showed me they know how to use players like me and develop them."
South Carolina: "This was my first time being around the new staff. Coach (Lamont) Paris is really good. He showed me clips of his system and how I would fit in from his old school. He uses his bigs, and there is a lot of stuff in there for a guy like me. They are recruiting me hard; I really like how hard they are going after me. It makes me feel welcomed. They know how to use big guys who can dribble and shoot."
Missouri: "Coach CY (Charleton Young) used to coach at Florida State. I built a relationship with him when he recruited and coached my brother (John Butler, Jr.). He knows how to develop players and knows what he is doing."
Georgia Tech: "They were my first offer. They offered me in the ninth grade. They have stayed consistent in recruiting me since then. Coach (Julian) Swartz is their main recruiter and is a good guy. I love Coach (Josh) Pastner; he is good people."
Florida State: "Coach Ham (Leonard Hamilton) and Coach (Steve) Smith are on me. They seem like they really want me because of John, and they think I can fit the same role he did and get me to the league quickly. I think that is a good fit."
Oregon with Coach Chuck (Martin) has been on me and Cal too," Butler said. "Neither has offered, but they have been on me."
Jordan vs. John
"I feel like I have a deeper bag in the post," Butler said. "He has me a little in the dribbling category and is taller than me. I think I shoot better than John, but he shoots it pretty well. It's really my post game though."
In Butler's words
"Last week, I would have told you Auburn was recruiting me the hardest," Jordan Butler said. "But I look over at my first live period game and see all four South Carolina coaches sitting right on the baseline. Missouri is on me pretty regularly too. But South Carolina has been on it, on it.
"I'm going to be looking for a school with a good coaching staff. Not coaches who just teach you to be a better player, but ones who help you off the court and guide you for the long run. Location won't really matter to me, but the system will. The school will have to know how to use a versatile big."