4-star Josh Hubbard sets commitment date; goes in-depth about official visits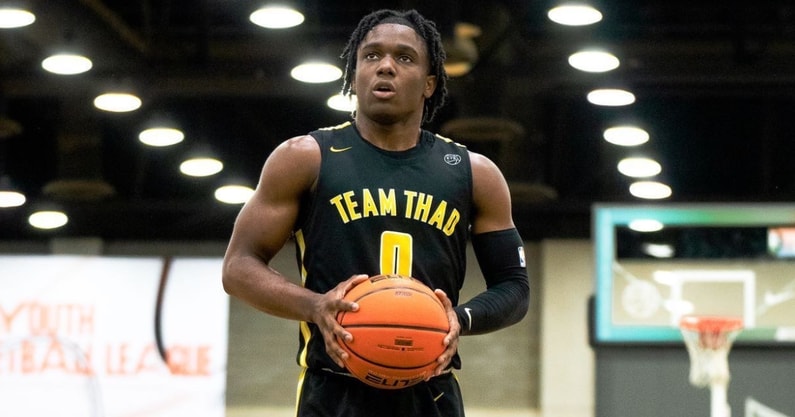 Josh Hubbard is a 2023 On3 Consensus four-star guard. The 6-foot-0 guard averaged 15.8-points, 3.1-assists, and 1.1 steals per game on Nike's EYBL Circuit.
"Coming into the summer, I wanted to show my improved decision making," Hubbard told On3. "I think I played well; I made my teammates better and was a leader on both ends of the court."
The Madison (MS) Madison-Ridgeland Academy guard has scored 3,233 career points heading into his senior season. He is just 1,041 points behind Mississippi high school scoring leader Robert Woodard, II. Last season, Hubbard finished with 1,152 points.
College coaches have taken notice of the high-scoring guard. On3 caught up with Josh Hubbard recently to see where things stand in his recruitment.
"I took officials to Mississippi State and Ole Miss," Hubbard said. "I visited LSU too, but that was when Will Wade was the coach."
Hubbard talks visits
Ole Miss: "Kermit Davis has been recruiting me since I was in the ninth grade. We've built a relationship over the years, and I knew I had to go visit in Oxford. My favorite part was seeing and experiencing a day in the life of a college athlete. It was also my first official."
Mississippi State: "That was a great visit. Coach (George) Brooks has been recruiting me for a long time. To see the new additions to the stadium/campus will be great. My favorite part of the visit was meeting the new staff and hearing their plans for the future of the program."
Future visits?
"USC and Seton Hall are looking for dates to set up visits with me," Hubbard said.
Seton Hall: "They just picked up Coach (Shaheen) Holloway. He told me my game reminds him a lot of himself. To hear that from a Coach was cool. Coach (Rasheen) Davis is the one recruiting me.
Southern Cal: "They tell me they love my positive energy and the winning attitude I have. Coach (Eric) Mobley is the main coach recruiting me."
In Hubbard's words
"I am going to be committing on September 22," Hubbard said.
"When I'm on my visits, I'll look closely at the coaches and the culture. Also, the play style will be important; I want to play fast and defend well. I want to play for a coach who trusts me to do what's best for the team and lead."
On3's take
Josh Hubbard is a strong-framed, tough-minded guard. He can touch the paint at any point in the possession and has the balance and sturdy frame to take a bump and not get knocked off course. He is an explosive and crafty finisher at the basket. Hubbard can get tunnel vision to the basket, but he showed improved vision this summer as a willing passer with talent around him. Defensively, Hubbard has quick, active hands and can defend full court. Think along the lines of a Will Bynum archetype.