4-star Marvel Allen announces top 6 schools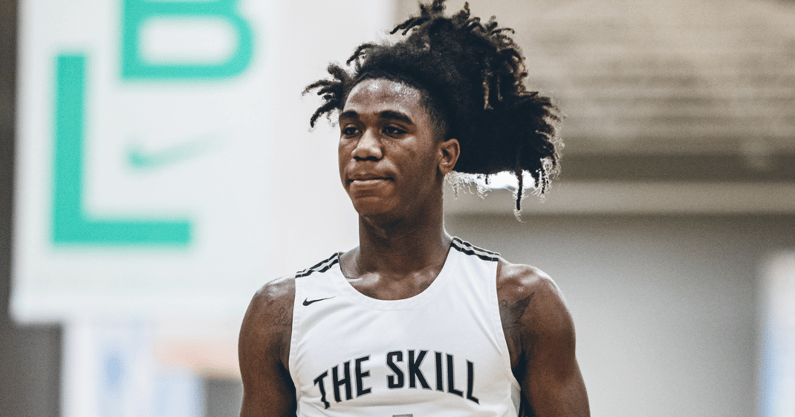 Class of 2023 four-star combo guard Marvel Allen tells On3 he's down to six schools: Michigan, Georgetown, Arizona State, LSU, Texas A&M, and Kansas.
The 6-foot-4 prospect out of West Palm Beach, Fla. also received offers from Maryland, Ohio State, Georgia, Ole Miss, Florida, Memphis, Alabama, and others. Allen will attend powerhouse Montverde (Fla.) Academy for his senior year of high school.
Marvel Allen is the No. 36 overall prospect in the 2023 class, according to the On3 Consensus, a complete and equally weighted industry-generated average that utilizes all four major recruiting media companies.
Allen talks Michigan, Georgetown, and Arizona State
Michigan: "Juwan Howard played and coached at the highest level so he knows what it takes to get there, and he also has connections. Michigan is known for their Fab Five run and Juwan was a part of that so he's very passionate about Michigan. He's also a great individual and a role model."
Georgetown: "Coach Patrick Ewing played at the highest level and knows what it takes and also has the connections. I also have a great relationship with coach (Kevin) Nickleberry who recruited me at LSU. They call me every day and check on me and they showed up to all my sessions."
Arizona State: "I first got recruited by Arizona State when coach Joel Justus was there. I've talked to coach (Bobby) Hurley a few times but I've recently been in contact with coach (Jermaine) Kimbrough and (Brandon) Rosenthal. They have a great program and system that run through their guards and I can see myself fitting into it."
Allen talks LSU, Texas A&M, and Kansas
LSU: "LSU was the first school I committed to so I have a natural love for the school and the fans. I talked to Cody Toppert the most who recruited me at Memphis but now he's at LSU. I've talk to the head coach a few times but I have a relationship with Toppert the most. I know the Murray State staff is over there and they play through their guards. I really want to see a couple of games to see how it translates into the SEC but it's a possibility I can return."
Texas A&M: "I've been talking with coach Vince (Walden). He's a great guy who's all about the kids and he's big on faith. Texas A&M is in the SEC and I've seen them play multiple times. They share the ball and the guards are free and play hard on defense."
Kansas: "NATIONAL CHAMPS! I talk back in forth with coach (Norm) Roberts. We've been talking for over a year now. He sends me motivational things every day which I really appreciate. Kansas has great coaches and it's a great system that guards can succeed in."
Additional info
In January of earlier this year, Allen committed to LSU. A few months later, the Tigers' head basketball coach Will Wade was fired after receiving multiple Level 1 violations. Therefore, Allen de-committed and reopened his recruitment.
Allen took junior-year official visits to LSU, Georgia, and Georgetown. However, a new coaching staff has been brought in at LSU and Georgia since taking those visits. Georgetown is the only visit he's made this year. Allen recently told On3's Jamie Shaw that he's "definitely visiting Michigan." He then followed up by saying he plans to take one more after his trip to Ann Arbor, either Florida State or Texas A&M. With the 'Noles not on the list, it looks like Marvel Allen will be tripping to see the Aggies in College Station.