4-star Reid Ducharme lit up Peach Jam, talks visits and time frame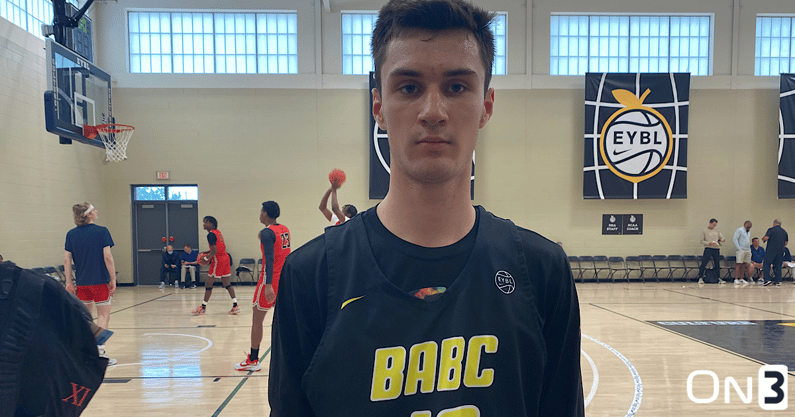 Reid Ducharme moved up to No. 85 in On3s 2023 rankings. The 6-foot-6 shooting guard backed up this, averaging 20.4-points and knocking down 18 threes through his seven games during Nike's Peach Jam week.
"My objectives going into July were to play the best basketball I could," Ducharme told On3. " I wanted to show people the progress I made just from last year. I thought I played well and showed that I could not only just play against the best competition in the country but put up some of the best numbers out of everyone in the country at a high percentage."
Coming into Peach Jam, the Wolfeboro (NH) Brewster Academy guard had schools prioritize him. On3 recently caught up with Reid Ducharme to discuss his official visits and see what is next for him.
"I've taken three official visits, Syracuse, Penn State, and Xavier," Ducharme said. "Those are really the only three schools I'm talking to right now; I don't have anything else set up."
Ducharme talks visits
Penn State: "There is a lot of potential for me to help build something with Coach (Micah) Shrewsberry. My favorite part of the visit was seeing all the resources and people that would be able to help me. I fit with their offense because I'm a versatile scorer, and the offense is built for players like that."
Syracuse: "My favorite part was going to Coach (Jim) Boeheim's house and having a cookout. The whole team and the other coaches' families were all there. What stood out the most to me was the culture and success that Syracuse has built. I would fit with their offense because players who can shoot have had a lot of success playing there."
Xavier: "What stood out to me the most was how they've been consistently good for a very long time. I also saw how Coach (Sean) Miller had developed players like me before. My favorite part about the visit was watching a ton of their workouts to see how they are actually developing players in the offseason. I would fit in at Xavier because coach Miller has coached many players like me who love playing defense and are tough on the court but also have the offensive game to go along with it."
Ducharme continued
"I don't have any new set going into my senior year," Ducharme said. "I actually haven't heard from any new schools since Peach Jam, so as of now, those three are the only schools I'm focused on – unless a school comes up that I would consider adding to that list."
In his words
"I'm looking for a program that can develop me into a better player," Ducharme said. "I want to play for a coaching staff that is honest with me and has a true fit with their program.
"I don't really have a set time frame with my recruitment, but I know I want to be committed before I start my senior season."