5-star AJ Johnson sets first two official visits; Kentucky, G-League are in contact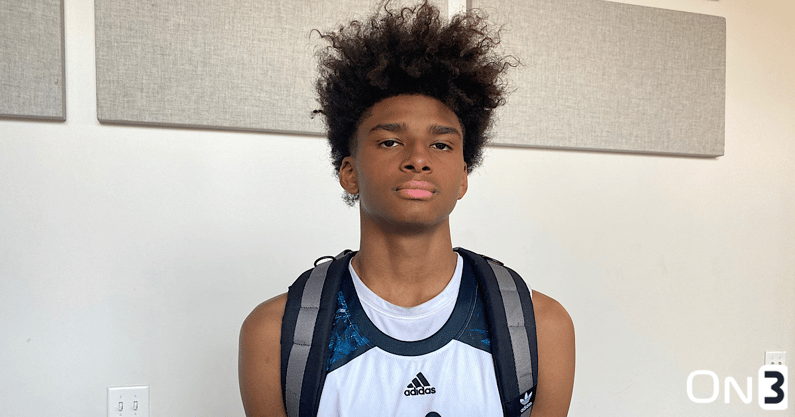 AJ Johnson moved up to No. 9 in the recent On3 2023 rankings update. The 6-foot-5 point guard has been a standout all June and July at Pangos All-American Camp, the NBPA Top 100 Camp, and the Adidas 3SSB Championships.
"I keep getting better with the physical side of the game," Johnson told On3. "I'm working on getting stronger and being more confident in my shot. I'm like that I am getting a lot of recognition for all the hard work I've put in my whole life," Johnson said. "When people are talking and coming at me, those are the games I live for. That is my favorite part of the game."
The Woodland Hills (CA) Taft guard is in the process of setting up official visits. On3 caught up with AJ Johnson to talk about visits and where his recruitment stands.
"I have not taken any official visits yet," Johnson said. "We set up officials to Texas and LSU, and that is it right now."
Johnson talks visits
LSU: "I have a really good relationship with Coach (Matt) McMahan. I saw how he coached Ja Morant and what he has become. Ja is one of my favorite players in the league; he is the same position as me, a big athletic guard."
Texas: "It's just the program overall. The marketing they have, the NIL, it's all just crazy. They put their guards into space and let them make plays. I like the way they use their guards. Plus, Texas is a great school.
…Other schools
"I may try and set something up with Arizona State, Southern Cal, and Louisville. Arizona State and Southern Cal are close to home. With my family all being out in Fresno, I have been away from home for a while. It would be cool to go to a college where I can see them.
"With Louisville, every time I talk to him, he keeps it real, keeps it one-hundred. I can tell he will coach me hard and push me to be the best I can be"
"I talk to Kentucky some," Johnson said. "That would be a huge one. That's about the school that hasn't offered I talk with some."
The G-League and Overtime Elite
I have been in contact a little with OTE and the G-League," Johnson said. "I'm going to sit down with my family and talk about it, but they are going to be an option for sure."
Johnson's take
"I want to try and decide on a school around my birthday," Johnson said. "I turn 18 on December 1.
"I'm going to be looking closely at the coaches who show the most love. The ones that I feel have my best interest in mind and want me to become a better basketball player and a better person. I want to play in a system that lets me play fast and free and with a coach who will coach me hard."