5-star center Aaron Bradshaw sets commitment date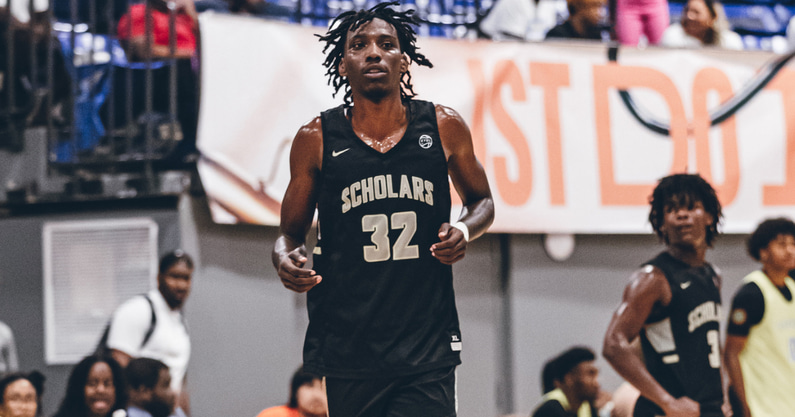 Five-star Rahway (N.J.) Camden center Aaron Bradshaw has set his commitment date, according to a report from 247Sports' Travis Branham.
Bradshaw, the No. 7 overall prospect in the On3 Consensus, will choose between Louisville, Kentucky, the NBA G League, Texas and USC on November 16.
The Wildcats are currently considered strong favorites by the On3 Recruiting Prediction Machine, giving Kentucky an 86.1 percent chance to secure his commitment. Louisville (11.9%) is the only other school or professional option currently polling above 1.0 percent.
The 7-foot-1 Bradshaw took official visits to both programs in the month of June, and he has been regularly visited by Kentucky head coach John Calipari this summer and fall, according to Kentucky Sports Radio. He is also the high school and EYBL teammate of 2023 No. 1 overall prospect DJ Wagner Jr., who the Wildcats are considered slight favorites to land by the On3 RPM.
Aaron Bradshaw Scouting Summary
"Aaron Bradshaw has a long and lean frame. A legit 7-foot-0, there is a lot of skill involved in Bradshaw's success. He is a smooth shooter off the catch with range extending out to the three-point line. He cuts hard off the ball and can knock down elbow jumpers off the catch. Bradshaw can attack in straight lines off one and two dribbles. Bradshaw is stiff in the hips, and his lower body leads to questions about his ability to open up and move laterally.
… He will need to add significant strength to his core and lower body. There is a lot of vertical pop; Bradshaw is a vertical spacing threat from the dunker spots and as a rim runner. Despite the thin frame, he is willing to stick his nose into the mix at the rim. He rebounds with two hands and is a natural shot blocker. Bradshaw is trending as a top three or four center in his class."