5-star forward Yohan Traore decommits from LSU after firing of Will Wade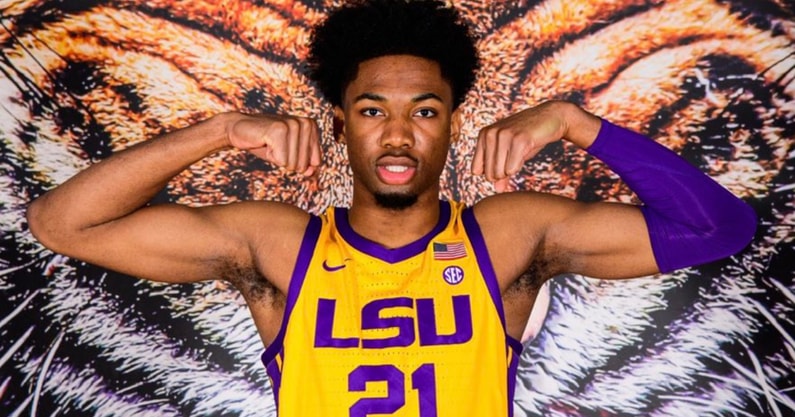 The mass exodus of LSU's recruiting class is now complete, as the Tigers lose the commitment of five-star Yohan Traore following the firing of former head coach Will Wade.
"I would like to first thank Coach Wade and the staff for giving me an opportunity to be apart and play for Louisiana State University. Was really looking forward to competing for the LSU Tigers and playing for the great fan base that LSU has. Due to the recent changes within the basketball program, my family and I have decided to reopen my recruitment. Looking forward to finding a new place I can call home," Traore said in a statement to On3.
Traore is ranked as the No. 17 overall prospect in the 2022 On3 Consensus, a complete and equally weighted industry-generated average that utilizes all four major recruiting media companies. On3's evaluators are much higher on French big man, ranking him 6th overall in the class.
The 6-foot-10 power forward out of Dream City (Ariz.) Christian chose the Tigers in January over Texas Tech, Michigan, Memphis, Auburn and Kansas.
LSU has now lost the entirety of their 2022 class, as five-star Julian Phillips and four-star Devin Ree both reopened their recruitment in recent days. Marvel Allen, a top-20 prospect in the 2023 class, also decommitted from LSU over the weekend.
Additional info on Traore's recruitment
Prior to choosing LSU in January, Traore's recruitment was quiet for months. The big man made official visits to Texas Tech, Michigan, Memphis, and Kansas between the months of September and October. Traore struggled to decide which school would host him last for his fifth and final official visit. At first, UCLA and Texas were the frontrunners, before shifting to a pair of Tigers in the SEC – Auburn and LSU.
Obviously, Traore chose LSU over Auburn for his final official visit.
With that being said, I now expect Auburn to immediately become a MAJOR contender in Yohan Traore's recruitment, now that it's back open.
Here is what Traore had to say about the Auburn Tigers in a recent interview with Auburn Live's Jeffrey Lee prior to his commitment to LSU:
"I talk to Coach Bruce Pearl and Coach Wes a lot," Traore said. "Auburn is a great school and I really like the coaches. I think it would be a great fit…I have watched Auburn and Jabari Smith. They've been doing great and I really like the way they use Jabari with posting up and isolation. I think I could be that guy who could be able to go in and do the same."
Traore discusses previous official visits
Traore also previously discussed the other programs involved in his recruitment prior to choosing LSU.
Texas Tech: "Great atmosphere. I have a good relationship with the coaches. I love the way they play. They play through their bigs so I would definitely have a chance to shine."
Michigan: "I have a great relationship with Juwan Howard. I love the way they play and they have my boy Moussa Diabate from France so I think we can be good. I've been talking to him about Michigan and he just says 'you gotta work hard and you can earn your place.'"
Memphis: "I think I can learn a lot. Larry Brown is over there, Penny Hardaway, Rasheed Wallace, so I think it could be a great place too."
Kansas: "The atmosphere man. I went to see their opening game and it was a great atmosphere. And I love the players, they made me feel like I was family. I like the way they play too, they play through their bigs so I feel like it could be a good place too."
Scouting Report on Yohan Traore
"Strong frame. Broad shoulders. Moves feet well laterally. Can switch on screens, move feet with a perimeter guy. Good weakside shot blocker. Is comfortable facing up, can rip through and get downhill. Has developed his jump shot from 3-point range; is now a threat. An explosive vertical athlete. Runs the floor well. A solid rebounder can drift in and out at times here. Is undersized for a five. Moves in a unique manner for a 6-10. A native of France." – Jamie Shaw, On3's National Recruiting Analyst