5-star Isaiah Collier updates recruitment, talks in-home visits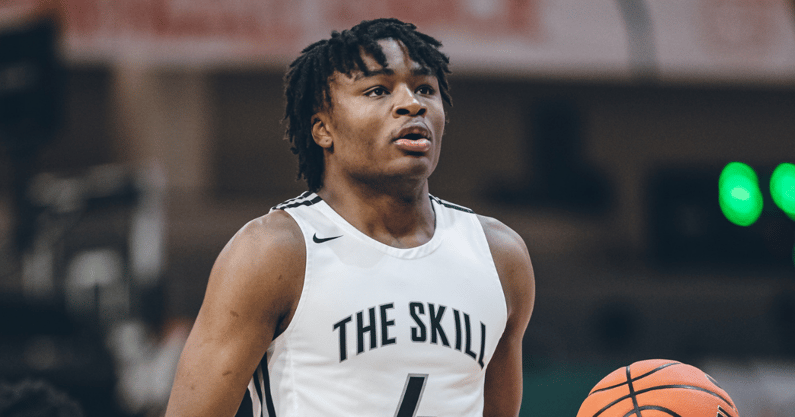 In the first two EYBL sessions, Isaiah Collier clearly established himself as one of the best point guards in the country. The 6-foot-2 floor general plays the game with a level of comfortability, swagger, and poise all simultaneously. The game is never rushed to him. He is such a skilled passer and playmaker. He forces the defense to expect the unexpected with a combination of behind-the-back and no-look-passes; to go along with a mean hesitation dribble, quite literally keeping defenders on their toes. Collier is a pass-first point guard is one of the best facilitators in the class. While most of the time he doesn't look to score, he is also more than capable if needed.
Collier is the No. 7 overall prospect in the country according to On3's ranking.
This season on the EYBL circuit, Collier is currently averaging 17.6 points, 5.1 rebounds, and 6.5 assists.
Collier announced a top schools list in December but now says his recruitment is "100% open".
Alabama, Auburn, Georgia, Cincinnati, UCLA, USC, and Florida State were the schools mentioned in his previous list cut.
Michigan is one of the main programs now involved in his recruitment that originally didn't make his finalists. The Wolverines were one of the many schools to have watched him over the weekend.
Let's dive in.
Collier talks future college visits and in-home visits
Several schools were sidelined to ooh-and-aah over Collier this weekend.
Coaches from Auburn, Alabama, Florida State, UCLA, USC, Cincinnati, Michigan, and others all watched the five-star point guard in Indy for EYBL session 2.
So far, Collier has visited Cincinnati and Alabama officially. He's also been to Auburn unofficially.
Where else would he like to visit?
"USC, UCLA, Michigan, and a couple more," he says.
Collier has not yet set dates for the three programs. He's also completed three in-home visits over the last week or so. Michigan, Alabama, and UCLA have each conducted in-home visits.
Collier talks schools
With Collier planning visits to USC, UCLA, and Michigan, he discussed his thoughts on each of the three programs.
USC: "They put people in the league. I see their guard development. (Andy Enfield) coached at Florida Gulf Coast and that's Dunk City right there."
USC head coach Andy Enfield, formerly at Florida Gulf Coast, captivated the nation in 2013 as he guided FGCU — the first No. 15 seed into the NCAA Sweet Sixteen, and introduced the world to "Dunk City," the nickname for FGCU's high-flying and high-speed offense which often ended with thunderous dunks.
UCLA: "They're definitely getting a lot of good players and I like their play style."
Michigan: "There are definitely a lot of good guards going to Michigan right now. I like how they play and their playstyle and I'm looking forward to learning more about them."
You might find it odd that UCLA and USC are recruiting a player from Georgia, so let me clear it up for you. Collier has family in the Los Angeles area.
"My mom is actually from out there and I have a lot of family there," Collier said previously to On3. "That's what made them more interested in me because they feel like most kids don't want to go across the country to go to school, and away from their family. But I really have a lot of family out there."
Cincinnati is not to be underestimated
If you're casually looking through the list of schools involved in Collier's recruitment, you might notice one, in particular, sticks out — Cincinnati.
The average college basketball fan might see the Bearcats on his list and scoff, thinking there is no shot he'd go there when he has options from Auburn, Alabama, UCLA, the full gamut.
But, I'm here to tell you… Cincinnati is not to be underestimated.
Since Wes Miller took over the head coaching job, the Bearcats have made Collier their No. 1 priority. They've even hosted him twice on a visit, more than any other school.
"The coaching staff has been coming to practices and stuff like that," Collier said previously to On3. "Their whole coaching staff was at my first game. There is a lot of love with Cincinnati."
The Bearcats' future transition from the American Athletic Conference, to the Big 12, is something Collier is taking note of.
"They're going to the Big 12, so it's going to be a good competitive conference. They're going to get better and better players. I love the love from them."
My closing thoughts: Cincinnati is going all-in on Collier. They've made it crystal clear that he is their guy. I do not have any inside information, but something in my gut tells me to not doubt Cincinnati. It's far from being a done deal, and I don't think Collier plans to commit right away, but regardless… I like the Bearcats' chances here.
For previous On3 interviews with Collier, read here and here.
Scouting Report
"Collier has a very strong frame. Plays with great balance and is able to take a bump when attacking the basket. Surveys the floor well, head up with a great pace. Never gets rushed. Excellent passer in the half-court. Plays well out of the pick and roll makes excellent reads and his passes are on target and on time. The jump shot is streaky at all levels. Puts a relentless attack on the paint and the basket. He has the quick-twitch and the toughness to be a good on-ball defender, quick hands. Collier elevates the play of those around him. He is vocal on the floor, calls his team in for huddles, and speaks up. Despite the jump shot woes, his ability to run a team is advanced." – Jamie Shaw, On3's National Recruiting Analyst