5-star Leonard Miller announces final two schools, plus G-League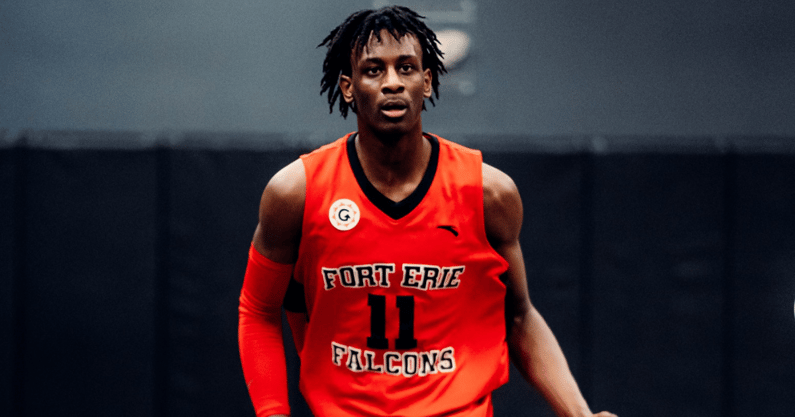 The top available prospect in the class of 2022, Leonard Miller, has narrowed his list down to three finalists — Arizona, Kentucky, and the G-League.
The talented small forward out of Ontario will no longer consider Gonzaga, Alabama, Auburn, Kansas, Oklahoma State, TCU, Providence, and the Overtime Elite league.
After averaging 32 points per contest for Fort Erie International Academy, the lefty wing was invited to the Nike Hoop Summit last weekend. He measured in at 6-foot-11, 208 pounds, with a 7-foot-2 wingspan.
When On3 updated its 2022 player rankings in February, Miller made his first debut in any of the four major rankings. The Canadian big man landed as the No. 11 overall prospect in the class, and a five-star recruit.
Updated News: Leonard Miller enters 2022 NBA draft while maintaining college eligibility
Weighing pro versus college
For quite some time, it's been rumored that the professional route is the favored destination for Miller. However, an official decision has yet to be made on the topic. In fact, I asked Miller over the phone on Wednesday if he was leaning towards college or the pro route more, and he said: "I'm undecided. I'm open to everything."
The G-League has made Miller their No. 1 priority and he visited with them earlier this week.
"With them, it's just going in and playing pros," Miller said. "People that are bigger, stronger. Guys that are the best in the world, besides the NBA. And I feel like I'm ready so if I feel like going there, is an option too, because I feel like I'm ready. They have a lot of benefits and stuff I could gain from going there. I like the staff too and I've had great talks with them."
Miller also recently spoke to On3's Jamie Shaw about the pro option.
"The pro route is a big option for me; it is very visible right now," Miller said. "I just have to keep working for that to happen. There are a lot of people telling me the NBA draft or the G-League could be possible. Eventually, I want to get drafted, so if that comes about this year, I will want to test that. If the G-League reaches out to me and wants me to come in and be with them, that will be something that we take very seriously."
Either way, Miller's future is bright, no matter the door he picks. Earlier this week, Miller set an official visit to Kentucky, scheduled to take place this weekend.
Miller talks Coach Calipari, Kentucky
Just a few weeks ago, Kentucky head coach John Calipari and assistant Chin Coleman made the trip to Ontario to see Miller at Fort Erie. To no surprise, it was pretty surreal for Miller to meet Coach Cal.
"Not gonna lie, it was kind of crazy because they're people I've looked up to my whole life, like Kentucky as a whole," Miller said. "It was a good opportunity for me and (Calipari) liked me. I treated the situation like it was normal, but inside, it was kind of crazy."
What stands out to Miller about the Kentucky Wildcats?
"Just what they do with their players. The opportunity to come and work for what I want and possibly get a lot of playing time, if I do work for it, and show what I can do at Kentucky. I've always liked them and they just have a good history of producing."
Another set of Wildcats making a push
If you've been following Miller's recruitment, then you might be a little surprised to see Arizona now on his list. When Leonard announced his top ten options just a couple of weeks ago, the Wildcats were nowhere to be found. Tommy Lloyd and Co. have made a last-second push, hoping to land the talented Canadian. Miller says Arizona started contacting him around the time of the Nike Hoop Summit — about a week ago — and is still in the process of getting to know them.
"I'm just now getting to know them, but what they got going on is good," Miller said. "They're cool, I like them."
Miller will learn a lot about UofA when he begins his official visit in Tucson this Sunday.
Timetable?
As it stands now, Miller has "no idea" when he plans to make a decision, but he does know what he's looking for.
"It just comes down to me having the best feeling of if it's the right place for me to reach my dreams," he says. "Really wherever is the best place for me to maximize the outcome."
Scouting Report
"Lefty. Has a strong frame, broad shoulders, and long arms. Is comfortable on the ball, able to initiate in the half-court. Plays with great balance and sees the floor. The form on the jump-shot is unorthodox, but he makes them at a high clip. Grew from 6-4 to 6-10 over the last 18 mos. Is an active rebounder. Is comfortable being an alpha, with the ball in his hands. Like to see him develop off the ball. Upside to defend multiple positions. Will be at his best as a mismatch big, exploiting matchups. A double, double threat. Leading Grind Session and Canada in scoring as a senior (32ppg). While he is very productive, still some intriguing upside to go." – Jamie Shaw, On3 National Recruiting Analyst