5-star Matas Buzelis bypasses college, signs with G-League Ignite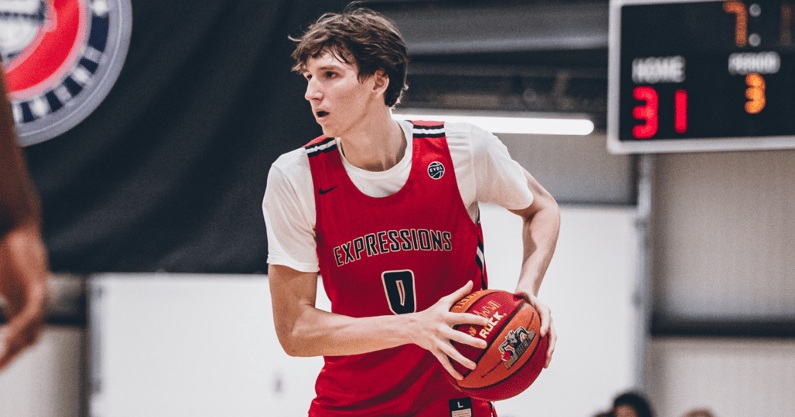 Class of 2023 five-star Matas Buzelis will bypass college and sign with the G-League Ignite, he told On3.
The 6-foot-10 small forward ultimately chose the professional pathway over Kentucky, North Carolina, Florida State, and Wake Forest. He also received scholarship offers from Duke, Arizona, Michigan State, Ohio State, Michigan, UCLA, Kansas, and others.
Buzelis, a rising senior, will play out his final year of high school at Sunrise Christian (Kan.) Academy before shipping off to California to play under Ignite head coach Jason Hart. Buzelis says he's signed a one-year deal with the G-League, and will then enter the 2023 NBA draft after its completion.
Buzelis is the No. 7 prospect in the 2023 class, according to the On3 Consensus, a complete and equally weighted industry-generated average that utilizes all four major recruiting media companies. He's also ranked as the No. 1 player positionally at small forward.
Buzelis breaks down his decision
A couple of months ago, the expectation was for Buzelis to go to college. Whether that was at Florida State, North Carolina, or even Kentucky. We did expect Buzelis to play at least one season in the NCAA.
With that being said, how difficult of a decision was it for him to land on the G-League Ignite over the traditional college pathway?
"It was very hard," Buzelis said. "I feel like if you have an Ignite offer, you're kind of scared to do it. It was hard because, you know, everyone picks college but I felt like this was perfect for me…I just had a gut feeling with doing this and I always go with my gut.
"I just felt that it was best for me. It was the coaching staff and the love and connection we had when we met. Just how they practice and everything. It's all about development for me.
What does Buzelis want to improve on the most during his one year with Ignite before entering into the 2023 NBA draft?
"Probably just getting stronger. You can always work on shooting no matter who you are, and of course ball handling, just getting everything tight."
Scouting Summary
Matas Buzelis has a lot of tools you look for in a modern forward. He has great positional size and good length. At 6-foot-10 you see he is very effective in transition with great balance and good burst. Buzelis has a good handle in the open floor. He is currently a perimeter-oriented player. He needs to tighten his handle in the half-court to help get him to his spots better and more effectively. The jump shot is also a slow release. He is better shooting off the catch than the bounce, the release is low, and the form is a bit mechanical. He is a good off-ball cutter, finishing above the rim on backdoor cuts. Buzelis is at his best, working with minimal dribbles from the mid-range/mid-post area. He needs strength, and the motor runs hot and cold. The upside is high here. – On3's Jamie Shaw, National Recruiting Analyst